Healthcare Leads Wall Street Higher, S&P Record In View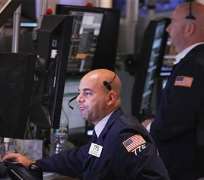 Stocks rose on Tuesday, putting the S&P 500 within striking distance of its all-time intraday high as healthcare stocks surged on prospects of a boost to earnings.
The group gained as planned cuts in government payments for private Medicare Advantage insurers did not materialize.
Humana, which derives about two-thirds of its revenue from Medicare Advantage business, soared 9.1 percent to $81.79 as the S&P 500's top percentage gainer. UnitedHealth Group, up 7.3 percent to $63.24, and Cigna Corp, up 4.4 percent to $65.66, were along among the top gainers.
"Given how lean these companies are, this news is pretty significant and could mean a 10 to 15 percent increase in earnings," said Phil Orlando, chief equity market strategist at Federated Investors in New York.
The broader market's rise countered Monday's sell-off. Most investors expect moves to be limited this week before Friday's monthly payrolls report.
"We'll just be marking time until then, as people are squaring their positions," said Brian Battle, director of trading at Performance Trust Capital Partners in Chicago.
The March payrolls survey could give clues on the success in reducing unemployment, one of the primary headwinds for economic growth. About 200,000 jobs were created last month, according to a Reuters poll, down from 236,000 last month.
The S&P index last week set an all-time closing high, but has thus far been unable to reach its intraday record of 1,576.09, an important psychological level that analysts say could draw in more investors. Intraday sessions have been volatile, with stocks dropping sharply on Monday before rebounding.
"We're swinging seven to 10 points every day (on the S&P), so it's very possible that we could hit the all-time high, or that we could get a reversal later on today," said Battle.
The Dow Jones industrial average was up 83.90 points, or 0.58 percent, at 14,656.75. The Standard & Poor's 500 Index was up 9.51 points, or 0.61 percent, at 1,571.68. The Nasdaq Composite Index was up 24.75 points, or 0.76 percent, at 3,263.92.
Investors mostly shrugged off the latest economic data. February factory orders rose 3 percent, slightly above expectations.
The Institute for Supply Management-New York's March index of regional business activity came in at 573.3, slightly higher than last month's 572.7.
A weak reading on U.S. manufacturing sparked a decline in Monday's session, though other indicators have pointed to a strengthening U.S. economy and helped push both the Dow and S&P to record highs last week.
Telecommunication shares were among the most active. Verizon Communications and AT&T have been working together on a breakup bid for British mobile operator Vodafone, according to the Financial Times' Alphaville blog.
Verizon rose 1 percent to $49.72 while AT&T was up 0.4 percent at $37.39. Both stocks are Dow components.
U.S. shares of Vodafone gained 5.3 percent to $29.84, and Vodafone's stock gave one of the biggest boosts to European shares, which rose 0.9 percent.
The S&P is up 10 percent so far this year, and while investors view market momentum as positive, many are also calling for a pullback given the size and swiftness of recent gains.
Hewlett-Packard Co slumped 5.5 percent to $22.01 after Goldman Sachs downgraded the Dow component, saying it expects the company's earnings power to come under pressure. Goldman has a $16 price target on the stock, which implies downside of more than 30 percent from HP's Monday closing price.
Goldman Sachs also removed Apple Inc from its Conviction Buy list, though it affirmed its "buy" rating on the stock. "We believe Apple may find it difficult to hit consensus expectations in the March and June quarters," the bank wrote to clients. Apple rose 1 percent to $433.03.
BGC Partners late Monday said it would sell its eSpeed platform to Nasdaq OMX Group for $750 million in cash. Shares of BGC soared 40 percent to $5.39.
REUTERS