Why Yar'Adua's Kitchen Cabinet Is In Shambles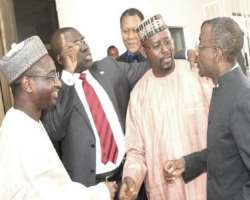 PHOTO: L-R: MUHTAR, BABALOLA, AJUMOGOBIA, ABBA RUMA AND SANUSI WHEN THEY CALLED THE SHOTS.
San Francisco Feb 10, (THEWILL) - The heat generated by the power play in the villa is burning and the members of the once powerful Katsina mafia or kitchen cabinet can feel it burning deep into their skins.
President Yar'Adua's main men especially the Economic Adviser, Tanimu Yakubu; Finance Minister, Mansur Muhtar; and Agriculture Minister, Sayyadi Abba Ruma were stunned by the acting president's sudden decision to remove Attorney General and Minister of Justice Michael Aondoakaa from his position on Wednesday. Aondoakaa as AGF was a strategic asset to the group who in the past 78 days have played all their cards to ensure that the Dr. Goodluck Jonathan did not become acting president.
An obvious indication that power had shifted from the once influential men was noticed at the end of the council meeting at the villa on Wednesday. Ruma, Muhtar, and Yakubu were seen discussing issues without the usual cluster of ministers who would often flock around them at the end of meetings.
But if feelers from Aso Rock are correct, the men may have more to worry about because they may be removed from the cabinet in a step analysts say would help the acting president get a full grip of the cabinet.
Last week, the acting president moved against the group when he suspended all transactions and negotiations related to oil Blocks and marginal fields in the country.
Some weeks ago, the acting president through his media spokesman Ima Niboro issued a statement to cabinet members and officials to concentrate on their duties while warning them against fueling divisions in the government.
Insiders say the men have accepted their fate after a very difficult battle to ensure that the status quo remained the same.