Court Stops Lagos Assembly From Probing Fashola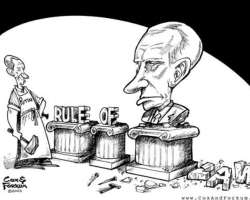 Lagos Feb 10, (THEWILL) – A High Court in Lagos on Wednesday issued an interim order stopping the Lagos State House of Assembly from probing the state governor, Babatunde Fashola over alleged misappropriation of government funds until it rules on the matter.
Granting the order, Justice Habeeb Abiru said "The proceedings of the House of Assembly attached to the further affidavit on the time given to the committee in question to act reveal urgency warranting the grant of the interim order sought by the claimant."
A group, which called itself as 'The True Face of Lagos', had run an advertorial in a national paper accusing Fashola and some members of the House of embezzlement, which the leadership of the House thereafter resolved to investigate.
Mr. Richard Akinola, a journalist and activist through his lawyer, Bamidele Atiru filed a suit urging the court to stop the probe saying the House is in violation of Section 128 (2) of the 1999 Constitution. Atiru said the probe was "illegal, malicious and unfair"with a predetermined biased end.
Further hearing on the matter was adjourned to February 17, 2010.