I Respect Keshi - Amrouche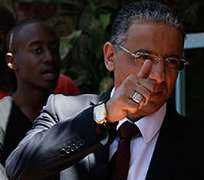 Kenya head coach, Adel Amrouche, has declared that he has "big respect" for his Nigerian counterpart, Stephen Keshi ahead of their teams' clash this Saturday.
Nigeria's Super Eagles play hosts to the Harambee Stars of Kenya in a 2014 Fifa World Cup qualifying in Calabar.
But Amrouche has taken his foot a bit off this weekend's match to heap praise on Nigeria manager, Keshi, for guiding his nation to a third African title in South Africa in February this year.
"I'll like to congratulate Nigeria for winning the Nations Cup and especially Stephen Keshi. I have big respect for him because he has done well. This presents us with a big opportunity to play the African champions," said the 45-year-old coach to journalists in Lagos.
He added Keshi's feat at the Afcon is a statement to back African managers.
Amrouche also made it clear that Kenya are in Nigeria for football reasons.
"We came here to play football. Keshi's achievement is a statement. There are many ghost coaches coming to Africa but I think Keshi has sent out the right message by winning the Africa Cup of Nations," said Amrouche.
Kenya's contingent arrived in Lagos on Wednesday but could not connect a flight to Calabar and had to check into Silver Grand Hotel in Ajao Estate in Nigeria's former capital.
Amrouche later led his team to a run-out at the dusty playground of the Ajao Estate Primary School on Wednesday evening as they are expected to leave Lagos for Calabar on Thursday.
The Harambee Stars are bottom of Group F of the World Cup qualification.
REUTERS