Money Laundering: Judge Hardy Okays Trial Of Ibori's Associates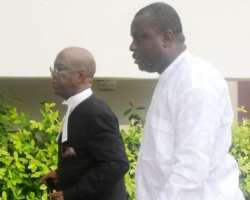 PHOTO: CHIEF JAMES IBORI DURING HIS TRIAL IN ASABA.
San Francisco Feb 05, (THEWILL) – There seems to be end in sight to the legal fireworks surrounding Chief James Ibori as a Southwark Crown Court in London has declared that the trial of his associates will continue on February 15, 2010.
Christine Ibie-Ibori (Sister); Theresa Ibori (Wife); Bimpe Pogoson (Aide), Udoamaka Okoronkwo (Associate) and Bhadresh Gohil (Lawyer), are being prosecuted by the Metropolitan police for various financial crimes, including money laundering.
An inside source familiar with the trial said Judge Christopher Harding made the ruling on Friday after two days of arguments from attorneys representing the accused persons and the prosecution. The attorneys who represented the accused persons are Andrew Trollope (QC) for Christine and Theresa; Tim Owen (QC) for Ms. Okoronkwo; Oba Nsugbe (QC) for Pogoson; Ian Winter (QC) for Gohil and Lady Sasha Wass (QC) for the prosecution.
The attorneys based their arguments on the relevance of the judgment made by an Asaba High Court late last year, which acquitted the former governor on all charges of corruption and money laundering.
The attorneys for the accused persons pushed forward arguments that since the Nigerian court did not find the former governor guilty of any of the criminal offences, the judge should discontinue the trial in London. In her argument, Ms. Wass argued that the matter in the Nigerian court was completely independent of the trial in London adding that some of the evidence in their possession were not even considered in the trial in Asaba.
Both parties in support of their arguments presented pages of the Marcel Awokulehin judgment. The attorneys for the accused argued that going ahead with the London trial would amount to double jeopardy and cited various cases to buttress their views.
After listening to both arguments, trial judge Hardy ruled in favour of the prosecution and fixed February 15th, for the commencement of their trial and also ruled that the defence had until Febraury 14, 2010 to appeal his ruling.
Chief James Ibori, a former governor of oil rich Delta State was set free by a Federal High Court Judge in Asaba after a lengthy trial that was full of twists.
Nigeria's anti graft agency, the Economic and Financial Crimes Commission has since appealed the ruling of the high court.
|
Article source