Gwoza Prison Falls To Boko Haram, All Inmates Freed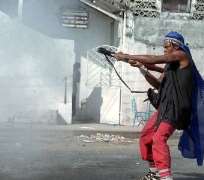 SAN FRANCISCO, March 15, (THEWILL) – Gunmen suspected to be members of the terror cell, Boko Haram, Thursday night attacked the main prison in Gwoza, a town located about 80 miles from Maiduguri, Borno State, the spiritual headquarters of the sect.
Witnesses told THEWILL that the radical militants stormed the prison in three vehicles chanting "God is Great" in Arabic, as they attacked the facility with heavy gunfire, EIDs and missiles, before releasing all prisoners including detained members of the group.
The attack occurred at about 6.45pm and lasted for about an hour without any challenge from soldiers and policemen, locals said.
One civilian was reportedly killed while another was hit by a stray bullet during the attack.
A prison official, who spoke to THEWILL anonymously, said prison officials were unprepared for the attack.
Recall that the sect had raided a police station and a bank in the town a few days ago.