Lebanon Needs Arab Aid To Help With Syria Influx: PM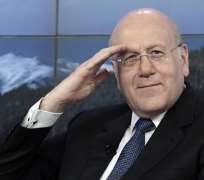 Prime Minister Najib Mikati urged Arab states to help Lebanon cope with a flood of Syrian refugees who are stretching its scarce resources and will need at least $370 million in support this year.
Mikati said hospitals were full of Syrians, the sick and wounded from the civil war next door, and doctors were struggling to prevent outbreaks of disease among 340,000 refugees crammed into host communities around the country.
Lebanon also faces rising crime - he said 700 Syrians were caught breaking the law in January, a high figure in a country of 4 million - and the influx of refugees into Lebanese homes had brought with it social problems including child marriage.
"We are coming to a very critical point," Mikati told Reuters in an interview in his Ottoman-style government offices overlooking central Beirut.
"We need help. Lebanon is bearing the burden of the events in Syria," he said. "We ask Arab countries to look supportively and sympathetically at Lebanon, because Lebanon needs these countries right now."
International donors, including wealthy Gulf Arab states, have pledged $1.5 billion for refugees and displaced Syrians, but two Lebanese ministers - for social affairs and health - told Reuters on Tuesday they had not seen a penny of that money.
Lebanon's request for $370 million for the refugees, divided between the state and international aid agencies, was based on estimates that it would be hosting 250,000 refugees this year - a figure which has already been well exceeded.
"There are no beds in Lebanese hospitals to admit Lebanese (patients) because most already have Syrians," Mikati said.
Child marriage - involving girls as young as 10 - was also on the increase, driven by the pressures of several families being housed under one roof.
"We are seeing a few problems in this issue and we believe in the near future this problem will be bigger and bigger," he added. Lebanon has no minimum age for marriage, Mikati said.
CAMPS "NOT A SOLUTION"
The wave of Syrian refugees, mainly Sunni Muslims, has altered the delicate sectarian balance of Lebanon's Shi'ite and Sunni Muslims, Christians, Druze and Alawites. They have joined an estimated 600,000 or 700,000 Syrian laborers and their families already living in the tiny Mediterranean country.
Lebanon's own 1975-1990 civil war was fuelled in part by tensions over the presence of hundreds of thousands of mostly Sunni Palestinian refugees, and it has resisted building camps for Syrians to avoid them becoming a focus of sectarian anger.
Mikati said setting up camps was now "one of the options" to house the refugees but that the scale of the crisis meant it was no longer a solution in itself.
Facing calls from some ministers to close Lebanon's 372 km (245 mile) border with Syria, he said it would be "difficult to control" the frontier and made clear he believed it was impractical, but said it would be for his cabinet to decide.
Mikati is a Sunni from the northern Lebanese city of Tripoli, where support for the Syrian insurgents battling President Bashar al-Assad runs high. But he heads a pro-Assad cabinet dominated by the Iranian-backed Shi'ite militant group Hezbollah and its mainly Shi'ite and Christian allies.
Seeking to balance those powerful opposing loyalties, the premier has sought to maintain a policy of 'dissociation' from the conflict in Lebanon's once-dominant neighbor.
But clashes between rebels and Assad's forces have spilled over the border sporadically. Tripoli has seen several rounds of deadly street clashes and Lebanon's security chief was assassinated in a Beirut car bomb after investigating an alleged Syrian plan to organize a bombing campaign in northern Lebanon.
BUDGET DEFICIT
The Syrian crisis and Lebanon's own political tensions have sharply cut economic growth from an average of 8 percent a year from 2007 to 2010 to barely 2 percent last year, when the budget deficit ballooned 67 percent to $3.93 billion.
A draft budget presented to cabinet last week aims to trim that back to $3.48 billion this year and Mikati said ministers aimed to reduce it still further.
He did not specify where the savings might come, but said the economic decline had been halted.
"I believe 2012 was the worst year, especially in the tourism sector," he said, referring to a pillar of Lebanon's economy. Passenger arrivals at Beirut airport in January and February were up on the same time last year, he said.
And an influx of middle-class Syrians alongside impoverished refugees may also partly offset recent losses.
"We see...spending in Lebanon is getting better, although this will not get us back to the level we expected for 2012 of 5 percent," Mikati said. "We were expecting growth of 5 percent but we had around 1.5 to 2 percent."
"This year, the best we are expecting is also 1.5 to 2 percent."
REUTERS