Russia Won't Tell Assad To Go, Sees Flexibility Among His Foes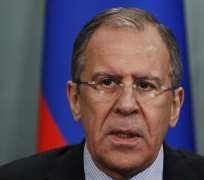 Russia will "absolutely not" tell Syrian President Bashar al-Assad to step down to end the civil war and make way for a political transition, Foreign Minister Sergei Lavrov said in comments published on Friday.
The remarks to the BBC were a reiteration of Moscow's position that Assad's exit must not be a precondition for a negotiated solution to the two-year-old conflict that has killed more than 70,000 people.
Asked whether there was a chance that Russia would tell Assad he should step down for the sake of a peace agreement, Lavrov replied: "Absolutely not. You know that we're not in the regime-change game."
"We are against interference in domestic conflicts. And this is our position, which should be of no surprise to anyone," he said, according to an English-language version of his comments posted on the Russian Foreign Ministry website.
Lavrov said Assad had repeatedly said he was not going to leave.
"All those who get in touch with him know that he is not bluffing, and that he is prepared to discuss any issue - among the Syrians."
Russia has blocked three U.N. Security Council resolutions meant to push Assad out or press him to end violence, a position that has set it against Western and Arab nations which say he must leave power.
Lavrov said he saw signs of flexibility.
"I'm glad that the latest discussions and the latest gestures from the opposition, and statements from some of those who support the opposition, hint that they would be prepared to start negotiations with some negotiating team without asking President Assad to step down," he was quoted as saying.
Lavrov spoke before a visit to London next week for the first meeting under the auspices of a new "strategic dialogue" between Russia and Britain. Syria is among the issues on the agenda for the talks on Wednesday between the two countries' foreign and defense ministers.
The Kremlin and the U.S. government have spoken recently of the need to step up efforts to end the war and start a political transition but several meetings - including one in London on Thursday between senior Russian and U.S. diplomats - have brought few signs of progress.
REUTERS