Terry's Lover Slept With 5 Chelsea Stars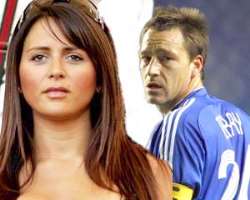 Vanessa Perroncel and John Terry
JOHN Terry's secret French lover scored with her very own five-a-side team of Chelsea stars.
Sexy underwear model Vanessa Perroncel had flings with strikers Adrian Mutu and Eidur Gudjohnsen, skipper Terry and his betrayed pal Wayne Bridge - plus a mystery fifth Blues player.
A source close to Vanessa last night told The Sun: "To say she's a Chelsea Girl is a bit of an understatement.
"Wayne knows that he was one of several Chelsea players who were close to Vanessa.
"Vanessa has always had a thing for footballers and set her heart on becoming a kind of super-WAG.
"During each affair she was always a single girl.
"But by the time she got to John Terry she'd achieved her own five-a-side football team."
Revelations of Vanessa's flings will heap further embarrassment on defender Terry, 29, as he comes under pressure to quit as England captain.
Meanwhile Bridge - now at Manchester City - travelled from the North for a tearful reunion with Vanessa and their three-year-old son Jaydon at the former family home in Oxshott, Surrey.
Bridge, 29, later returned to Manchester with Jaydon.
Vanessa's spokesman Max Clifford said: "He has been on the phone constantly, but this is the first time they've seen each other since Friday.
"It was a very emotional reunion. There were lots of tears."
Vanessa, who claims to be 28, began her affair with married Eidur Gudjohnsen in 2003 after meeting him at the trendy Elysium nightclub in London, where she worked as a waitress.
Dad-of-three Gudjohnsen spent the night with Vanessa at her Fulham home before sneaking out at 5am.
Vanessa spent nine months working in the VIP area of the club - which has now closed - and was a favourite with the Chelsea players.
The team regularly let their hair down at the club after games, and also held Christmas and birthday parties there.
As Vanessa grew closer to the players - and their wives and girlfriends - she joined the exclusive Chelsea Club, a private members' gym and fitness centre at Stamford Bridge.
"Gudjohnsen used to visit her at a flat she was living at near Stamford Bridge."
Sources close to Vanessa also revealed she had an "intense" relationship with shamed star Adrian Mutu.
Vanessa also had a relationship with a fifth Chelsea star - who cannot be named - before meeting Bridge.
There is no suggestion that any of the other players pictured above in this 2004 Champion's League line-up had a relationship with Vanessa.
Bridge moved Vanessa into his £1million home when she fell pregnant with Jaydon.
But she went on to have a four-month affair with Terry, who arranged for her to have an abortion when she became pregnant by him. The fling happened even though Vanessa also knew Terry's wife Toni because their partners were best friends off the field.