'Somali Bombs Target Civilians'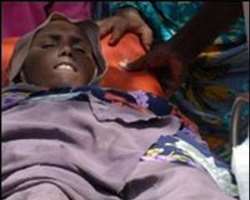 The indiscriminate firing of heavy artillery into markets and residential areas in the Somali capital has been condemned by Medecins Sans Frontieres.
The aid group told the BBC they had treated nearly 100 blast victims in the latest upsurge of fighting involving insurgents and government forces.
MSF's Greg Elder said all groups fighting were "partly responsible".
The weak interim government, backed by African Union peacekeepers, controls only a small part of Mogadishu.
The hardline Islamist insurgents, some of whom have links to al-Qaeda, hold sway over much of southern and central Somalia.
'Crazy and out of control'
"It seems to be a pattern we've noticed in the last year," Mr Elder, MSF's deputy operations manager for Somalia, told the BBC's Network Africa.
"There are lulls in the violence broken by unexpected rounds of extreme violence and unfortunately the weapons of choice seem to be artillery which are pretty indiscriminate weapons.
"We're not in a position to point fingers… we're just trying to draw attention to all the actors in the conflict to try to prevent the indiscriminate attacks.
"People who make it to the hospital are the lucky survivors," he said.
He said many of the city's residents had fled in the last few years, but those remaining were caught in a "spiral of violence which is becoming crazy and out of control".
In 2009, just under half of the 1,137 people admitted to Daynile hospital suffering from blast injuries were women and children under the age of 14, he said.
The latest attacks in the city started last Friday as President Sheikh Sharif Sheikh Ahmed marked a year since he took office.
A moderate Islamist and former insurgent leader, he was elected after the latest UN-sponsored talks to end the violence which has wracked Somalia for much of the past 20 years. BBC