Wall Street Dips At Open On Growth Concerns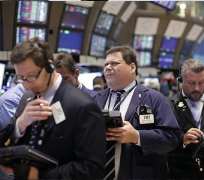 Wall Street edged lower at the open on Monday as worries about the prospects for global economic growth prompted investors to step back from equities that are within reach of record highs.
The Dow Jones industrial average .DJI shed 14.36 points, or 0.10 percent, to 14,075.30. The Standard & Poor's 500 Index .SPX lost 3.29 points, or 0.22 percent, to 1,514.91. The Nasdaq Composite Index .IXIC dropped 10.40 points, or 0.33 percent, to 3,159.35.
REUTERS