House Urges FG To Repair Niger Bridge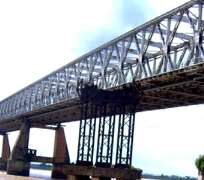 SAN FRANCISCO, February 12, (THEWILL) – The House of Representatives, Tuesday, urged the Federal Government to, as a matter of urgency, begin the reinforcement, repairs and rehabilitation of River Niger Bridge.
The advice was given following the adoption of a motion moved by Hon. Ezenwa Francis Onyewuchi on the threat of collapse of the Niger Bridge.
Leading debate on the motion, Onyewuchi noted that the River Niger bridge, which links the South-east, South-south, South-west and some Northern states, is on the verge of collapse due to its age, overuse and lack of maintenance.
The lawmaker noted that there is evidence of corrosion and cracks to the structural members of the bridge which have been stretched beyond capacity.
"At present,the bridge can no longer bear the constant weight of stationery vehicles, trailer or any other heavy duty truck accessing it, as heavy cranky noise and vibration is experienced when they do so," he said.
He expressed worry that the "eventual collapse of the River Niger Bridge will lead to the death of many Nigerians and motorists," saying " lots of properties will be lost in the mayhem and sections of the country will be cut off."
He said the collapse of the bridge will also cause "dislocation and disruption in commercial activities."
The lawmaker therefore prayed the executive to keep the promise of past and present administrations to build a second Niger Bridge by awarding the contract to a competent company.
The House also asked the Federal Government to ensure that the services of a competent contractor is employed for the construction of a second Niger Bridge.