Jonathan Condemns Killing Of Health Workers In Kano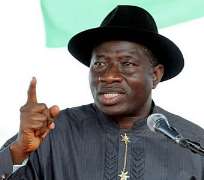 SAN FRANCISCI, February 08, (THEWILL) - President Goodluck Jonathan has condemned the dastardly terrorist attacks in Kano State Friday which claimed the lives of health workers who were dutifully engaged in vaccinations to protect and save the lives of Nigerian children.
A statement from the Presidency said Jonathan on behalf of himself and the Federal Government "extends commiserations to the families of the victims and the government and people of the state.
"He assures the bereaved families that the loss of their loved ones will not be in vain as the Federal Government will ensure that the mission to totally eradicate polio from Nigeria in which they were patriotically engaged is carried out to a very successful conclusion."
The statements reads in part, "President Jonathan further assures all Nigerians and the international community, especially international health organisations and Nigeria's development partners that the Federal Government will not be distracted from its objective of accelerating the reduction of maternal and child mortality in all parts of Nigeria by mindless acts of terrorism.
"While the Government will continue to do everything possible to track down and apprehend agents of terrorism in the country, the President has directed that enhanced security measures be put in place immediately for health workers in high-risk areas.
"He prays for the peaceful repose of the souls of the victims of today's attack."