WHO defends its swine flu warning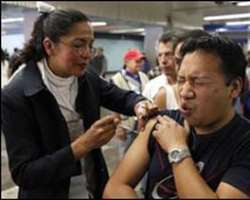 The World Health Organization (WHO) has defended its handling of the swine flu pandemic last year, after the Council of Europe cast doubt on its actions.
Countries rushed to order thousands of vaccine doses when the pandemic was declared in June, but the virus proved to be relatively mild.
The WHO's links to drug companies were questioned at a hearing by the Council of Europe's health committee.
A WHO flu expert denied there had been improper influence from drug firms.
The WHO's Keiji Fukuda told a hearing in Strasbourg: "Let me state clearly for the record - the influenza pandemic policies and responses recommended and taken by WHO were not improperly influenced by the pharmaceutical industry."
When a pandemic was declared last June most European countries changed their health priorities to accommodate thousands of expected patients, including spending millions of euros on vaccines for H1N1.
A number of European governments signed contracts with drug companies to buy vaccines.
But it has since become clear that although 14,000 people worldwide died from swine flu, and millions more were infected, it is a mild flu with a lower mortality than seasonal influenza.
Allegations from politicians and media about links with drug companies have prompted an internal review at the WHO and the Council of Europe hearings.
Dr Fukuda rejected comparisons between seasonal flu and swine flu - describing them as like comparing oranges to apples.
Seasonal flu figures were based on statistical models, whereas every swine flu death had been confirmed in a laboratory, he said.
He said the WHO response had not been perfect, but a range of experts - including some in the private sector - had been consulted and there had been safeguards to prevent a conflict of interest.
"We are under no illusions that this response was the perfect response," Dr Fukuda said.
"But we do not wait until [these global virus outbreaks] have developed and we see that lots of people are dying. What we try and do is take preventive actions. If we are successful no-one will die, no-one will notice anything," he added.
"We feel we should move quickly. Our purpose is to try to provide guidance, to try to reduce harm," he said.
Part of the WHO review would examine if there was a better way to define outbreaks and severity, Dr Fukuda said.