As Ex-Gov.Okilo Is Laid To Rest, Yar'adua Extol His Virtues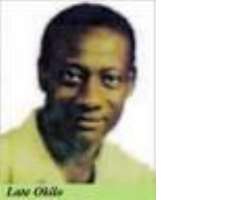 President Umaru Yar'Adua on yesterday said that the greatest legacy of the first civilian governor of old Rivers State, Chief Melford Obene Okilo, was his vision for his people and Nigeria at large.
Yar'Adua said this at a ceremony organised in honour of the late Okilo at the Banquet Hall of Bayelsa's Government House in Yenagoa.
Represented by Vice-President Goodluck Jonathan, the President noted that Okilo, during his tenure as
governor of old Rivers State, created lands where they were hitherto non-existent and opened up inaccessible areas for development.
He described Okilo as a "country-man, farmer, fisherman, a modest and astute politician who never believed in the glamour and affluence displayed by his colleagues.
"Melford Okilo was an impeccable promoter of peace who never engaged in the use of violence to settle
political scores throughout his lifetime," Yar'Adua said.
In his tribute, Gov. Timipre Sylva of Bayelsa said that Okilo was a philosopher who gave the name Bayelsa to the state.
Sylva said that the late Okilo was the greatest personality from Bayelsa, stressing that the late statesman believed that "the spirit of a man can never die".
The remains of Chief Melford Okilo, the first civilian governor of the old Rivers State, was buried
yesterday in Emakalakala, Ogbia Local Government Area of Bayelsa.
Reports that the casket bearing the remains of the elder statesman, which was earlier received by the Bayelsa's Council of Chiefs, arrived at St. Bartholomew's Anglican Church, Emakalakala, at about 11.45 a.m.
In his sermon, Rt. Rev. James Oruwari, one of the officiating ministers, described Okilo as a man of
wisdom and a man who loved his country.
"The name Okilo is synonymous with love; Okilo is a unifying factor in Ogbia kingdom. If you made a
true confession to the deceased when he was alive, whatever your position, you would notice a change
in your life -- that was Okilo for you,'' Oruwari said.
Speaking at the Church service, Vice-President Goodluck Jonathan described the late Okilo as a
selfless leader, saying that the biography of the late statesman exposed his astute qualities.
Jonathan said that Okilo knew the relevance of power and for that reason supplied generators to every
community in the old Rivers State that was not connected to the national power grid during his tenure
as governor.
"He was the first person to set up an Independent Power Plant (IPP), the Imiringi Gas Turbine, as a governor. Okilo also set up the first state-owned University of Science and Technology in the country.
Okilo was a selfless leader and he did not loot the public treasury. Gov. Rotimi Amaechi of Rivers
built a house for him recently.
His remains was laid to rest at about 2 p.m. amid rainfall.
|
Article source