National Hospital Confirms Conjoined Twins Dead, Says Seperation Not Done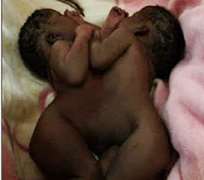 The National Hospital, Abuja, on Tuesday confirmed the death of the conjoined twins, saying they did not die during separation.
The News Agency of Nigeria (NAN) reports that the twins were born to a 17-year-old woman, Safiya Sani on Thursday, Jan. 3 at Mararaba Medical Centre, Mararaba Gurku in Nasarawa State. They were later transferred to the National Hospital, Abuja.
The Director, Chief Clinical Services of the hospital, Dr Obasi Ekumankama, told the News Agency of Nigeria (NAN) in Abuja that the twins had not been separated before they died. Ekumankama,  confirmed that the twins died on Sunday when medical investigation was yet to be completed, said the bodies had been deposited at the mortuary for autopsy.
The director also said the twins had some connection in the heart, down to the abdomen and the upper side of the intestines. 'The doctors carried out medical investigations and they were supposed to complete the investigation on Monday to know to what extent they were connected. 'You cannot operate on them until you know what you are going to do. "The initial thing showed there were some connections in the heart and between the intestine the upper side of the intestine."
Ekumankama said that part of the outcome of the investigations showed that the twins were joined from the thorax to the abdomen called thoraco-abdominal conjoined twins. He said other investigations that were to be carried out included a CT-Scan to determine if they had one liver. The director, however, said that if the investigations were successfully carried out, a team of seasoned experts would have been assembled to carry out the operation to separate them.