Nigeria calls on UN to fight illicit small arms trade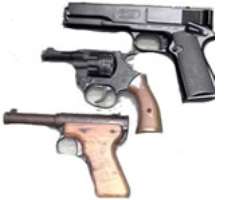 Nigeria's Foreign Minister, Chief Ojo Maduekwe, says there is an urgent need for a rejuvenated fight against small arms trafficking in West Africa.
He issued this call at the UN general assembly Tuesday, stressing the ties between that trade and piracy as well as oil smuggling in the Ni
"The proliferation of small arms in West Africa is fast turning the region into a major transit point for illicit drugs, thus also facilitating the growth of criminal syndicates, some with enough firepower to challenge a nation's military force," he said at the Assembly's annual high-level debate.
He also appealed to the international community to check the scourge by implementing existing agreements, and creating new and legally binding ones.
According to Mr Maduekwe, stepped-up efforts are needed to achieve the goal of "preventing, combating and eradicating illicit trade in small arms and light weapons, and regulating the transfer of conventional weapons in general.
He expressed support for fully implementing the 2001 United Nations Programme of Action on Small and Light Weapons, which calls for international cooperation and assistance to strengthen the ability of States in identifying and tracing illicit arms and light weapons.
By: Dorcas Efe Mensah/myjoyonline.com/Ghana