Jonathan Leads FG's Delegation to Yakowa's Burial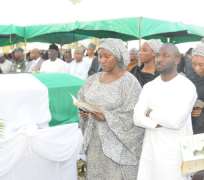 … As FEC pays tribute to late Kaduna governor, Azazi
SAN FRANCISCO, December 20, (THEWILL) - President Goodluck Jonathan will, Thursday, lead the Federal Government's delegation to Fadan Kagoma in Jema'a Local Government Area of Kaduna State for the burial of the former governor of the State, Mr. Patrick Ibrahim Yakowa, who died in a chopper crash last Saturday in Okoroba, Nembe Local Government Area of Bayelsa State.
This came as the Federal Executive Council (FEC), Wednesday, dedicated its last meeting for the year to honour the late governor and former National Security Adviser (NSA), General Andrew Owoye Azazi, who also died in the crash, which claimed the lives of four others.
The FEC meeting presided over by President Jonathan lasted for about two hours during which Jonathan, Vice President Namadi Sambo, ministers as well as State governors paid glowing tributes to the fallen leaders and statesmen as they signed the two condolence registers opened for the deceased.
From the outpouring of emotions at the meeting, it was apparent that President Jonathan as well as Vice President Sambo were yet to get over the shock of the death of the two leaders. Describing the day of the incident as a 'Black Saturday', Jonathan paid glowing tributes to both Yakowa and Azazi.
Sambo , on his part, could not hide his feelings as he described Yakowa, who took over from him as governor of Kaduna State as 'a bridge builder' whom he had known for more than two decades.
In his tribute, Jonathan explained: "The victims are Nigerians that have served this country. For Governor Yakowa, I knew him when he became the deputy governor of Kaduna State. I had some interactions with him and since we have been interacting. Then, I knew him more when the then governor of Kaduna State was moved to Abuja to assist me as Vice President and Yakowa became the governor of the State.
"He was a different class of politician. Most of us who are politicians exploit religious sentiments to divide Nigerians for ourn own selfish gains. We exploit the North-South divide to divide Nigerians for our selfish gains. But Yakowa was very different. He was agentleman who believed in the unity of this country.
"Satuday, December 15, 2012 was a sad day in the history of Nigeria.
We pray that God will give the family the fortitude to bear the loss."
On Azazi's death, the president said : "Though we are both from Bayelsa State and Ijaw ethnic nationality, I never met him until 2004 when the then Brigadier Azazi was made the Director of Military Intelligence (DMI). I was then the deputy governor of Bayelsa; somebody came to me that one of our own has been made the DMI and that was a prestigious posting in the Army. And I said I was going to receive him and have a little party for him. And I hosted him one evening in Abuja, in one of their officer's mess.
"From that time, we started interacting. Then he was promoted to Major General and made GOC One Division Kaduna and then he was also made the Chief of Army Staff. That was another level of our interaction in 2006, then I was the governor of Bayelsa State.
"I also hosted him as Chief of Army Staff alongside the current Minister of Petroleum Resources, then as the first female Executive Director of Shell. It was also my first time of meeting her.
"He (Azazi) was made the Chief of Defense Staff in 2007 when I was vice president to the late President Umaru Musa Yar'Adua. I also made him the National Security Adviser(NSA) when I became the President. I saw him as somebody who meant well for this country."
Jonathan said Yakowa and Azazi have worked very well for the country, stressing that those who make negative comments about politicians can't really make any negative comment about the men.
Going philosophical, Jonathan said: "Sometimes people wonder why good people die; it is quite touching. Both of them touched our lives, they worked for this country. We pay condolences to the families, that of their aides, the pilot and co-pilot.
"The Honourable Minister of Niger Delta, just told us that Azazi left a 90-year-old mother; can you imagine how a 90-year-old mother will mourn a son who did very well and rose to become a four-star general in the Nigerian Army.
"We also expressed our condolences to the Vice President whom Yakowa served as deputy governor. We also send our condolence to the governor of Kaduna State, Muktar Ramalan Yero, who also served Yakowa as deputy governor. We also send our condolence to the government and people of both Kaduna and Bayelsa States."
Sambo , in his tribute, described Yakowa as a bridge builder who cannot be forgotten, saying "He is a great man whose great loss is not only to Kaduna State but Nigeria as a whole."
Information Minister, Labaran Maku, who moved the motion for FEC to officially condole Jonathan, Sambo and the Nigerian people on the demise of the two leaders, recalled how he also escaped death by the whiskers that Saturday.
"Saturday, 15th December remains a gloomy day for this country. On that fateful day, a number of us were in Okoroba Kingdom in Bayelsa State to pay last respects to the departed father of Special Adviser on Strategy and Documentation, Mr. Oronto Douglas. I went there because Oronto has been an old friend of mine and we have worked in government together.
"When we arrived, the late Governor of Kaduna State, Mr. Patrick Yakowa and Gen. Andrew Azazi were already seated. The two of them were full of life, we greeted, we embraced and later we went for the funeral. Unknown to us, we did not know it would be the last moment we will have with these two distinguished sons of Nigeria.
"Council members would recall that General Azazi served in this chambers with us when he was National Security Adviser. He also rose in the distinguished career of this nation to the rank of a full four-star general. He gallantly served as the Chief of Army Staff and Chief of Defense Staff, then he was invited by Mr. President to help this nation overcome one of the most serious security challenges since the end of the civil war in 1970.
"He served his nation with distinction, he served to the best of his ability and he was able to manage the situation he found himself in until the time came for him to have relief and be replaced by another Nigerian to continue with the efforts by Mr. President to give this nation peace.
"Governor Patrick Yakowa served and had a distinguished career in the Civil Service and rose to the position of Permanent Secretary in the Civil Service of the Federation.
"All the time he was Deputy Governor in Kaduna State, he showed courage, humility, patience and man of peace and even as Governor, he was such a good man.
"When we met in Bayelsa, it was a twist of fate that we did not board the same flight because on that day, the Special Adviser to the Vice President, Sani Umar and myself and Timi Alaibe, were supposed to travel together with the two of them back to Port Harcourt.
" Somehow, just before we could take off from the funeral arena, Sani backed out and decided to travel alone. I stood up and was going together with them but by some involuntary action, I returned to my seat and said I would wait for a moment. That was simply the twist of fate that kept us alive; we must give glory to God. I tell his story because nobody goes before his time, we must give God the glory for what has happened. Their destiny was that day and that is what God has done."
Describing the late Kaduna governor as a humble person and unique leader, Minister of Environment, Hadiza Malafia, said she met Yakowa about 19 years ago as her boss in the state civil service , stressing that it was very traumatising to know that the two persons are dead.
"He was humble and created good communication between us enough to prevent any evil penetration by civil servants that will cause friction between us. We were like a family. He used to take time out to visit my parents and I used to do the same. Incidentally, his wife, the wife of the vice president and my mother all share the same name so I used to call them my mother and they call me their daughters.
"I pray lessons like this will serve that no condition is permanent and that in humility we find strength. I hope that we will know that one day some other persons will be seating here," she said.
The Coordinating Minister of the Economy and Finance Minister, Dr. Ngozi Okonjo-Iweala; Minister of State, Defence, Olusola Bada; National Planning Minister, Shamsudeen Usman; Minister of Niger Delta Development, Godsday Orubeb;, and Minister of State for Health,Mohammed Pate, among others also paid glowing tributes to the two leaders.
In her own tribute, Minister of Petroleum Resources, Diezani Alison-Madueke, described Yakowa as a kind-hearted person, saying "It has been very traumatising for the people of Bayelsa."
She also described Azazi as a friend and brother, saying "A big tree has fallen in Ijaw land and the clay pot that supports the state has fallen."
According to Alison-Madueke, "For Governor Yakowa whom I met as a Minister, he wanted nothing more than to heal the division in his state. It is clear that the only sure thing in life is death. We don't know the time and manner it will come but it will come."