UN-Identified Earthquake!!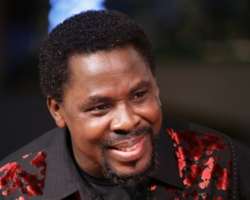 As Indonesians quaked under the crushing earthquake of 2nd September 2009, a tremor measuring a powerful 7.0 on the Richter scale, a pastor in faraway Nigeria had prophetically spoken of the disaster weeks earlier…

On Sunday 9th August, Pastor T.B. Joshua of The Synagogue, Church Of All Nations in Lagos, Nigeria spoke of a natural disaster, alluding specifically to the letters 'UN'. "Pray for this nation," said the Prophet. "I'm seeing what has happened in the past, that the ground opens and people sink and the buildings… This one now carries UN out of the letters I'm seeing." A fortnight later on Sunday 23rd August 2009, the prophet unveiled the date of the aforementioned disaster, saying, "Fast and pray, on the 2nd of next month," emphasising the date four times in the course of the service.

In the early hours of Wednesday 2nd September 2009, an earthquake shook the Asian nation of Indonesia resulting in nearly 100 fatalities. Triggering deadly landslides and collapsing countless buildings, the climbing death toll confirms the intensity of the calamity, rescue teams still searching for those missing under the debris. A nation prone to frequent earthquakes and volcanic eruptions due to its locality on the infamous "Ring of Fire", Indonesians authorities are still making frantic efforts to provide aid to those affected in remote areas. Due to the magnitude of damage caused, the United Nations universally known as the UN took part in an emergency rescue and assessment mission on the Indonesian island of Java. Almost 24,000 houses were either totally or partially damaged in the disaster, with some 367 schools and 353 places of worship in West Java also affected, according to the UN Office for the Coordination of Humanitarian Affairs.

TB Joshua had earlier this year prophesied concerning the terrorist bombings in two prominent hotels in Jakarta, Indonesia, explicitly mentioning July 16thto 17th, the very dates of the attack. His prophetic messages are always broadcast live through Emmanuel TV, a Christian television station growing remarkably in stature and status, particularly throughout the African continent.
|
Article source