Akpabio Urges Military To Defend Democracy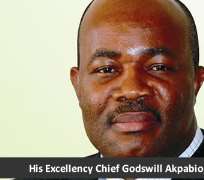 The Akwa Ibom State Governor, Chief Godswill Akpabio has urged the military to continue to defend the nascent democracy that the nation is enjoying positing that democracy held better prospects for development than military dictatorship.
Chief Akpabio made the call in a lecture on "Democracy and the rule of law: challenges and prospects" he delivered to the participants of Course 21 at the National Defence College, Abuja. He paid glowing tribute to General Abdusalami Abubakar for resisting the lure for power and returning the country to democratic rule.
According to Chief Akpaabio, 'In this wise, we must pay tribute to the millions of our countrymen (both civilian and military) who by their faith and relentless fight for democracy brought us this dawn of democracy.
'Nigerians owe a debt of gratitude to democratic elements in the military, particularly former Head of State, General Abdulsalami Abubakar, and his team, who at the earliest opportunity set the course for our democratic transition, kept faith with every pronouncement, and midwifed this current democratic dispensation,' he said.
The Akwa Ibom State Governor also condemned the spate of insecurity in the country saying the ideology of the insurgents has remained unclear. 'Some claim their ideology is hinged on Western education being a sin. Many have attributed the insurgency to poverty but the evidence contradicts this position.
'Poor people could not afford expensive sport utility vehicles for suicide bombing. Nor could poor people afford the materials used for bombs. One believes that the insurgents are exploiting religious intolerance and tribalism to kill and maim their brothers and sisters and create insecurity,' he said.
Chief Akpabio identified insecurity, corruption, tribalism, unemployment, religious intolerance, illiteracy and poor infrastructural development as challenges facing democracy in Africa. He however said despite the challenges democracy held better prospects for development.
In his remarks, the Commandant of the College, Rear Admiral Thomas Lokoson extolled the developmental strides of Chief Akpabio in Akwa Ibom State. He said having visited the state he could testify to the uncommon transformation which the Governor has brought to the state. He said the sterling performance of Governor Akpabio was why the College invited as a guest lecturer and said the participants' knowledge would be greatly enriched by the lecture.