Gov. Chime Terminally Ill?…Risks Impeachment As Loyalists Fight Back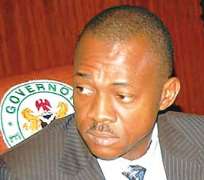 The last time the governor, Barrister Sullivan Chime was seen in public was on September 9th 2012 at the meeting of South-East Governors meeting in Enugu and since then, he is yet to be seen by journalists in the Government House and public functions.
He was said to have been evacuated to the United States of America, USA, for an immediate medical attention for an alleged terminal illness.
Immediately after his disappearance, his aides began a media propaganda in which they sought to influence the public to believe that he was on an accumulated annual leave.
But a source told pointblanknews.com " the governor is very sick. He is somewhere in the United States even though they want us to believe he is India. The whole thing is kept in secret, and there is confucsion back home".
The source continued " there are speculations he is terminally ill, and may not return, while some are saying he is getting better, but just like the Mrs Jonathan saga, no one is sure and they are allowing everyone to speculate."
Checks by our correspondent however reveal that, the Deputy Governor, Mr. Sunday Onyebuchi, has been acting in the governor's capacity, but his aides are reportedly not pleased with Chime's directives, that Onyebuchi should not approve more than N500,000 for any project, no matter the circumstance.
The state House of Assembly has equally expressed dissatisfaction with the manner in which Barr. Chime abandoned his duty post.
Shortly after his departure, it was reported that a protocol officer who claimed to be an insider, pointed out, under conditions of anonymity that, 'For some time now, we noticed that the governor has not been his usual bubbling self. You may not easily know this because he carries himself well and hardly talks, but some of us knew that the man was down. From what we heard, he is no longer in London; he was flown to India last week because his health condition wasn't getting better. As I speak to you right now, he is in a hospital in India.'
Meanwhile words are flying around that Enugu State House of Assembly has perfected plans to impeach Chime, who has been out of office for more than 65 days. Interestingly, a group in the House allegedly loyal to the governor have hurriedly instigated their colleagues to immediately proceed on a dubious vacation.
Our source said 'the idea of a vacation for the lawmakers was conceived by some principal officers in the state government loyal to the governor as they decided to send the lawmakers on vacation to avert a situation where they might have to sit and impeach the governor who had exceeded the minimum 65 days out of office'.