Police nab Governor Akpabio's 'wife' over N20million scam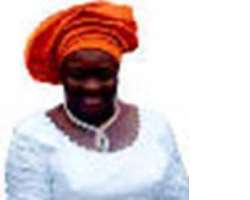 The Akwa Ibom Police command has arrested Mrs. Oluchi Victor Utong, a middle aged woman alleged to be a close friend of the Akwa Ibom State first Lady Mrs Unoma Ekaette Akpabio for defrauding her victims of over ten million Naira.
The state Commissioner of Police, Mr. Walter Rugbere made this known in Uyo while briefing newsmen on the activities of the command.
Rugbere disclosed that the arrest was made possible following a petition written to it by one Elijah Reuben alleging that the said Utong, former wife of the proprietor, College of Petroleum, Uyo uses the name of Her Excellency, Mrs. Unoma Ekaette Akpabio to dupe innocent citizens of Akwa Ibom State on the pretext of giving them contract in the Public Utility Department, Governor's Office, Uyo.
Rugbere explained that Utong, having duped so many, relocated to Umuahia in Abia State where she was trailed and arrested at Choice World Hotel, Umuahia. He said the suspect who made several confessions during interrogation comfirmed that she collected over ten million from people.
To arrest the fleeing lady fraudster, one of her victims had phoned her that he benefited from Ibom Taxi Scheme and wanted to show appreciation of twenty thousand to her. Utong at this point told the victim to bring the money to her in Umuahia in Abia State . He said it was at this point that the monitoring team unit of the force quickly followed and arrested her. The police Boss said that efforts are geared towards the arrest of her accomplices which Utong has agreed to lead the team.
Unconfirmed source told FRESHFACTS in Uyo that Utong was actually closed to Akpabio who allegedly bought her a Toyota Camry but she ended up using the relationship to defraud her victims.
Meanwhile, a midwife, Mrs Nse Elijah Ukpong has also been nabbed by the police for stealing a baby boy belonging to Aniefon Obot. A source at the police headquaters in Ikot Akpan Abia near Uyo told our correspondent that Obot was impregnated by one Ndipmong, who later abandoned her with the pregnancy.
While confirming the arrest of the suspect, the Police commissioner said Obot about a month ago gave birth to a baby boy at Dr. Ukpong's Clinic, Ikot Ekpene, believed to be owned by the said midwife. Investigations revealed that the Midwife along with nursing assistant had approached the said Obot demanding that they were ready to buy the baby but she stoutly refused. It was further learnt that, the next day when the said baby got missing the mother who suspected the midwife and the nurse reported the matter to the police who immediately swung into action, arrested the suspect with the stolen baby and the culprits have been charged to court.
|
Article source