GEJ Risking Impeachment By Ignoring Assembly Resolutions - Senate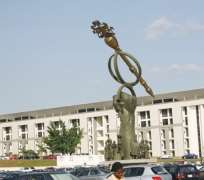 ABUJA, September 20, (THEWILL) – Asides an earlier threat to institute impeachment proceedings against President Goodluck Jonathan if the 2012 budget is not implemented to the letter by September, the National Assembly on Thursday stated fresh grounds for impeaching the president: continued disrespect for the resolutions passed by the Assembly.
To underscore the threat, Senator Uche Chukwumerije openly assured of his preparedness to lead the impeachment process should the need arise, revealing that he had already begun collecting signatures to force President Jonathan to implement resolutions of the National Assembly.
Chuwkumerije offered to lead the motion on the impeachment if nothing is done to curb rising corruption in Nigeria, which he blamed on non-implementation of National Assembly's resolution prescribing punishment for indicted public office holders.
"The BPE report shows uninhibited siphoning of public funds through all sorts of substitutes into private pockets and private companies. We must pass a resolution calling the attention of Mr. President to the main body of that report," he said.
"As of two weeks ago, with Lawan and others, I started collecting signatures that if we could collect two-third or so, we are going to get it here: a motion that gives marching order to Mr. President to do something about this report or else….
"We may get to that stage in this country. We cannot continue like this with the impunity with which they loot public funds and nobody is saying anything. When it comes to the stage of threatening impeachment, Uche Chukwumerije will do it and move a motion."
The outburst came after the consideration of a bill for an act to amend the Public Enterprise (Privatisation and Commercialisation), sponsored by Senator Ifeanyi Okowa.
The Senate also demanded that Jonathan should implement its resolution on the probe of Bureau of Public Enterprise (BPE) by immediately sacking the director general, Ms. Bolanle Onagoruwa, who was indicted for gross misconduct in the sale of government enterprises.
Deputy Senate President, Ike Ekweremadu, who presided over the bill, urged the president to ignore the argument of Minister of Information, Mr. Labaran Maku that National Assembly's resolutions are mere advisory tools that can either be implemented or ignored.

"I do not think we need the minister of information or indeed any minister to remind us that our resolutions are not binding just as we do not need to remind him that he was not elected," he said.
So we know that our resolutions are not binding, but the decisions we take in this Senate, especially regarding the resolutions, are all well thought-of. They are borne out of patriotism; they are well-researched and it is the amalgamation of the views of very responsible Nigerians.
"And to that extent, it is very persuasive and anybody who is ignoring the resolutions of this Senate is doing it at the expense of good governance, and we cannot encourage such a thing.
"We believe that this is an opportunity for Mr. President to go and look for the resolutions of the Senate regarding the BPE investigation. If there are very fat buttocks sitting on it, I think he should use his executive powers to push them out and begin to implement them in the overall interest of this country."
Chairman of the ad hoc committee that conducted investigation into sale of government enterprises by the BPE, Senator Ahmed Lawan, in his contributions, urged Jonathan to implement all the recommendations.
"It is high time that the BPE resolution of the Senate that had been passed to Mr. President for his action was considered," he said.
"Mr. President must ignore people like Labaran Maku who will always tell Nigerians, unfortunately, that the resolutions we pass are only advisory, have no weight, and do not matter.
"While it is true that the resolutions of National Assembly are advisory, members of the National Assembly passed a resolution that is so important, so critical to making Nigeria work. Therefore I urged Mr. President to now take immediate action on the BPE resolution passed by this Senate."
Politics