Oil Costs Cause First Import Price Gain In Five Months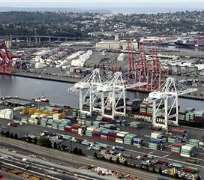 Import prices rose in August for the first time in five months as the cost of imported oil jumped, a factor that could weigh on American consumers and temporarily boost inflation.
Import prices climbed 0.7 percent last month, the Labor Department said on Wednesday.
The cost of petroleum imports increased 4.1 percent. Higher prices at the pump threaten to hurt consumers' pocket books.
Analysts had expected overall import prices would rise 1.4 percent in August.
Many economists expect higher fuel costs will contribute to a short-term rise in inflation. At the same time, the U.S. Federal Reserve is still expected to ease monetary policy this week.
There was little sign of broader inflation pressures in the import data. Non-petroleum import prices declined 0.2 percent, a sign that the cooling global economy is reducing companies' ability to raise prices.
Prices for imported consumer goods outside automobiles fell 0.3 percent, while prices were flat for cars and auto parts brought into the country.
Import prices were flat from major trading partners Japan and China. Import prices from the European Union fell 0.4 percent.
U.S. stock index futures climbed on Wednesday after a German Constitutional Court permitted the ratification of the euro zone's new bailout fund as the region continues to battle its debt crisis. Yields on U.S. government debt also rose.
The European debt crisis looms as a major threat to the U.S. recovery from the 2007-2009 recession.
The Fed looks set to launch a third round of bond purchases this week to try to drive borrowing costs lower and breathe more life into an economy that is not growing fast enough to lower unemployment.
The Labor Department report also showed export prices rose 0.9 percent last month. Analysts had expected export prices to rise 0.4 percent.
REUTERS