Elder Statesman Matthew Mbu Dies; GEJ Condoles Family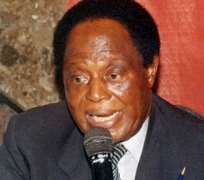 SAN FRANCISCO, February 06, (THEWILL) – Ambassador Matthew Tara Mbu, 82, has died in a London hospital, according to media reports.
Ambassador Mbu, a native of Cross River State, served as Cabinet Minister, Nigerian High Commissioner to the United Kingdom, Nigerian Ambassador to Germany and a Representative of the Nigerian government in the United States in 1966. He was also a member of the Parliament from 1952-1955.
He is survived by Katherine Anigbo (wife) and six children, including Senator Matthew Mbu.
In a condolence message Monday to the family, Nigerian President Goodluck Jonathan expressed sadness following his passing.
Jonathan described him as "a nationalist, elder statesman, a globalist, and a true diplomat."
Matthew Mbu, the President noted, lived an exemplary life of service to Nigeria. He was "an icon of the legal profession and the Diplomatic Corps, who served Nigeria selflessly as a Minister; as Nigeria's High Commissioner to the United Kingdom and in several other capacities," the President said in a statement by Spokesman Reuben Abati.
"Many," according to President Jonathan, "will remember the late Dr. Matthew Mbu for his many diplomatic assignments, but I remember him for his calm disposition and mature contributions which helped Nigeria through difficult times between 1967 and 1970 and then again in 1993 during the June 12 political crisis when he served Nigeria as Minister for Foreign Affairs."
President Jonathan further observed that the late Dr. Mbu's contributions to Nigeria are enormous and that he was indeed one of Africa's major voices in the global arena in the last five decades.
"His death", the president added "is a great loss not only to the Mbu family of Boki in Cross River State, his immediate family and his extended political family but an irreplaceable loss to Nigeria as a nation. On behalf of myself, my family and the government and people of Nigeria, I extend my condolences to the Mbu family in general and to his wife, Katherine and the children. May his soul rest in peace."