PROF. ODEJIDE, AUTHOR, NEW MACMILLAN PRIMARY SCHOOL ENGLISH, DECRIES POOR LEISURE READING AMONG NIGERIANS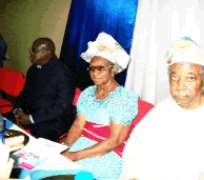 • L-R: Renowned historian, Emeritus Prof. Jacob Ajayi; his wife, Christy; and the Managing Director, MacmillanPublishers Nigeria Limited, Dr. Adesanya Adelekan, at the event
PHOTO: THE SUN PUBLISHING
More Stories on This Section
The ceremony was obviously done to make a bold statement- to celebrate success and prosperity in the midst of trials and pains. In whatever way you look at it, the Macmillan 2011 Gala Night was done to toast to the joy, resilience and triumph of Macmillan Nigeria Publishers Ltd in a precarious trade, made much so by the unscrupulous activities of book pirates and unhelpful government policies.
For more than a decade now, the local publishing industry had been trapped in a cycle of distress, due to the ruthless profiteering activities of pirates. The situation was not helped by the lack of relevant copyright laws and absence of political will to enforce even the existing, albeit, inadequate legislations against such infringement. Worse still, the indigenous publishers were unprotected with government's policy which tended to encourage preference for use of foreign textbooks over their local counterparts in schools. As it were, many publishing firms went out of business.
But MNPL a division of Macmillan UK which had been doing business in the country for decades survived the challenges, tamed in the last decade by more friendly government policies and official fight against infringement on intellectual property. For MNPL, which under the management of Dr. A.I. Adelekan, the Managing Director, has successively posted profits in the last few years, there was every reason to celebrate. From the choice of the exquisite, brightly illumined Lekan Are Hall, Kankanfo Inn, Ibadan, the lavish menu, wine and other drinks, the expensive tomes of gifts presented to its dedicated staff, best authors and clients as well as the scintillating performance of artistes who entertained the glitterati on Friday, March 3, 2011, the publishing house surely proved its claim to being 'pace setters in publishing' in Nigeria.
The evening's proceedings which had ace-broadcaster, Yanju Adegbite, as compere, began with a sumptuous cocktail and later a welcome address by the company's MD, Adelekan. The publishing guru reminded the guests of the purport of the Gala Night, which was to recognize and reward the contributions of its staff, outstanding authors and book distributors to the company's good fortunes over the years.
Amid soft background music, the awardees were called to the podium and handed assorted prizes which included refrigerators, Plasma TV sets, generating sets and air-conditioning systems.
Former Deputy Vice Chancellor of University of Ibadan and author of children's literature, Prof. Biola Odejide; a renowned mathematician, Prof. Samuel Ade Ilori and Senior Lecturer in English Department, Dr. Ayo Ogunsiji, were honoured with Best Author Awards in various book categories.
Prof. Odejide, whose relationship with MNPL dated back to 1993 when she collaborated with David Cobb and others in writing a Junior Secondary School text, New Focus English, published by Macmillan UK, rose to becoming lead author in Complete Focus English in 1995 and New Macmillan Primary School English (2004), which adopted a communicative, participatory and highly interactive approach.
A Professor of Communication and Language Arts, Odejide also served as President of the International Board on Books for Young People as well as Coordinator of the United Nations Drug Control Project on Preventive Drug Education for Nigerian Schools.
'This collaboration among authors, editors, illustrators and drug abuse experts resulted in the publication of seven titles by MNPL under the PADA series in 2001', a citation read on her on the occasion stated.
Prof. Ilori, a 1968 First Class Mathematics Honours graduate of the University of Ibadan, earned his place on the honour roll for writing 27 Mathematics textbooks at the primary, secondary and tertiary levels. One of these, co-authored with Prof. O. Akinyele entitled: 'Elementary Abstract and Linear Algebra' won the 1987 Concord Press Award for Academic Publishing.
Dr. Ogunsiji is the lead author of Macmillan Primary Brilliant English. He also co-edited with Dr. M.A. Alo,English Language Communicative Skills for Academic Purposes, a text that has been adopted by many universities and tertiary institutions for their Use of English programmes.
Besides the authors, Ambra Bookshop, Lagos, Sambest Bookshop, Osogbo and Lucky Star Bookshop, Port Harcourt also went home with prizes for demonstrating integrity, honesty and posting high volumes of sales. The book distributors were said to have grown from small stationery/book retailing outlets to world class trading companies with a stress on distributing only genuine books, patronizing publishers and making prompt payment on purchases.
Mr. Alisigwe Sam Alisigwe, the Director of Sambest Books Ltd, was particularly commended for his industry and promotion of Macmillan books among users. After a six-year apprenticeship in Onitsha, the native of Osina Community in Ideato Local Government area of Imo State relocated to Osogbo, where he has become 'a force to reckon with in book selling.'
Bishop James Yisa Memorial Primary/Secondary School Suleja, Hope Bay Children's School, Lagos and Rayfield International School, Uyo, which bagged the Macmillan Best School' Awards also received prizes, for being loyal bulk purchasers.
Responding, Prof. Odejide, on behalf of the recipients, thanked MNPL management for the honour and presents. She remarked that although it was not the first time, the firm would organize such an event, this year's was particularly special, judging by the turn-out at the gathering and what went into the organizing.
In an interview with Daily Sun, the former U.I DVC said the celebration underscored the promise of a better future for the publishing industry. 'Many of them are just coming out of the recession in the last one decade and that's why Macmillan too can celebrate,' she said.
Assessing the industry, she said publishing has been profitable as far as school textbooks are concerned, as these earned publishers more money due to constant demand, but regretted that this has not been the case with books for leisure reading, due to poor reading habit among Nigerians.
She observed, however, that this was not particularly good as it was equally important that academic reading be reinforced with recreational reading. Prof. Odejide said she felt fulfilled in writing for the juvenile. 'The time I am happiest is when I go to places and parents tell their kids, 'that's the person that wrote your book' and I see the excitement on the faces of these little ones. Yes, the recognition by the audience gives joy', she remarked.
Among dignitaries at the event were the erudite historian, Emeritus Professor Festus Ade Ajayi;  his wife, Christy, Executive Chairman, Oyo State Universal Basic Education Board, Prof. Soji Adejumo and Permanent Secretary, State Ministry of Education Dr. O.O Bello. The night was made more special with entertainment by the Ruthamjib Cultural Troupe and violin rendition by Master Adeife Ajibade.