EBERE ORJI CRIES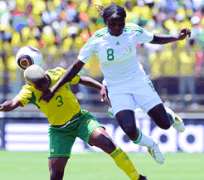 Arguably one of the rising stars to watch at the FIFA Women's World Cup in Germany this summer, Nigeria's Ebere Orji is dreaming of revenging against the German team that denied the Falconets the trophy at the Under-20 FIFA World Cup and equally clipped the wings of the Super Falcons in a scandalous manner late last year in a friendly game.
Nigeria's triumph in the CAF Africa Women's Championship (AWC) has helped her spirit stay high even in the face of a tough senior World Cup draw, where Falcons would face strong contenders like Canada, France and the host, Germany.
Orji told Women Soccer that some factors contributed to her team's loss to the Germans in the previous encounter and that another opportunity has presented itself for her to make the difference by correcting the mistakes of the past.
'We are going to correct our mistakes and the bad impression people have about us against Germany. A lot of things contributed to our recent loss to Germany,' she said.
'The weather really affected us because it was freezing and many of us were not used to such an unfriendly climate. So, nobody should blame the players or our coaches for the poor result from that friendly game.
'If you had watched our matches at the AWC in South Africa, you would have seen that we played better football. But in Germany, the weather was not in our favour in any way that time.
'At the World Cup, I am sure that we will come out of the group. We are not afraid of any team in our group; whether it is Germany, France or Canada, we are ready for them.
'Although some people talk about 'group of death', we are not scared. We have every confidence that we will book a ticket and move to the next round of the competition, and from there, anything can happen.
'My target is that Falcons will play in the Final in Germany this time around. And for your information, our opponents are respecting us because they truly understand that Nigeria is not a pushover in world football,' she concluded.