SHEKARAU, KANO ASSEMBLY ON COLLISION COURSE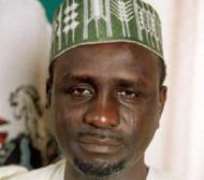 Governor Ibrahim Shekarau
Kano State Governor Malam Ibrahim Shekarau and the state House of Assembly are now on a collision course as he defied the legislature's earlier order by swearing-in 43 interim management officers to run the affairs of local government councils that were dissolved last week.
Last Wednesday, the House rejected the 43 nominees submitted to it by the governor for appointment as new council leaders and stopped him from swearing in the officers. The House also asked the Attorney General and Commissioner of Justice Barrister Aliyu Umar to appear before it on Monday over what it described as 'misleading' the state government on a legal issue.
Speaking at the swearing-in of the local government interim management officers at Kano Government House yesterday, Governor Shekarau said he did not breach any law by swearing them in, saying his action was within the confines of the law. He said there was no ill-feeling whatsoever between the House and his government as they were still working in harmony.
Shekarau also said what the House issued was a resolution and not an order, saying it passed many resolutions and that efforts were being made between the two arms of government to implement them.
The governor challenged the former vice chairman of Rimin Gado Local Government, Alhaji Muhyi Magaji, who had earlier gone to court to stop him from appointing caretaker committees following the dissolution of the local government councils last week, to go back to the court if his action was in breach of the law.
Speaker of the House, Alhaji Abdulaziz Garba Gafasa, could not be contacted yesterday over the governor's action. But sources close to the House said members of the legislative body insisted that it still stands by its decision.
Daily Trust learnt that the House was in consultation with some eminent lawyers on what to do next over the development at the time the governor was swearing in the new officers.
Contacted, state Attorney General and Commissioner for Justice Barrister Aliyu Umar said he would honour the House's invitation as a mark of respect by appearing before it on Monday.
Meanwhile, former vice chairman of Rimin Gado Local Government, Alhaji Muhyi Magaji, has instituted another case at a Kano High Court challenging Governor Shekarau for not obeying an earlier court order by going ahead to swear in the new council leaders.
Regional News