Bill Clinton Hails P&G For Touching Lives With PUR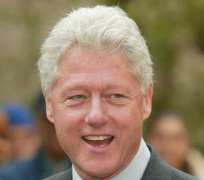 Lagos. Wednesday, August 21, 2013: Former United States President Bill Clinton has hailed Procter and Gamble's PUR initiatives for touching and improving lives.
Clinton in company of his daughter Chelsea said this while visiting a school in Rwanda to see Procter and Gamble Purifier of Water packets at work.
The visit was part of effort to strengthen commitment of P&G's Clinton Global Initiative (CGI) towards provision of clean water in developing countries.
To further deliver its commitment to provide global access to clean drinking water over the years, P&G has been working with partners to provide clean drinking water in developing countries for nearly a decade with its award-winning water purification technology otherwise known as PUR.
To date, clean drinking water provided by P&G has saved an estimated 32,000 lives and prevented 250 million days of diarrheal illnesses across 71 countries.
The powdered water purification product is a simple and effective way to make clean drinking water for the entire family, as the packets turns dirty, potentially deadly water into clean and drinkable water very quickly.
The P&G Children's Safe Drinking Water Program (CSDW) has been providing clean drinking water in developing countries for nearly a decade through its award-winning P&G Purifier of Water technology.
From January 2008 to 2011, the 'Safe Water for Nigerian Children' project in partnership with non-governmental organisation, Society for Family Health (SFH) provided over 30 million litres of safe drinking water in semi-urban and rural communities through the use of P&G's PUR Purifier of Water and also donated over 48,000 sachets of PUR, providing safe drinking water as a key component for disaster relief during the cholera outbreaks in 2010.
PUR, which was developed jointly by Procter & Gamble and the U.S. Centers for Disease Control and Prevention, has been shown to reduce diarrheal illness by an average 50 per cent in controlled health intervention studies.
Established in 2005 by President Bill Clinton, the Clinton Global Initiative (CGI), an initiative of the Clinton Foundation, convenes global leaders to create and implement innovative solutions to the world's most pressing challenges.

Procter and Gamble Nigeria
Established in 1992, P&G Nigeria is an important investor, manufacturer, technology transfer agent, employer and exporter. P&G produces Ariel Detergent, Bonux Detergent, Pampers Disposable Diapers, Always Sanitary Pads and Vicks Throat Drops in Nigeria and employs over 3,000 direct and indirect employees through its general office in Lagos and manufacturing facilities in Ibadan. The company is now expanding across West Africa with a central business and production hub in Nigeria and a new multimillion dollar state-of-the-art manufacturing plant under construction in Ogun State Nigeria.
About Procter & Gamble
P&G serves approximately 4.6 billion people around the world with its brands. The Company has one of the strongest portfolios of trusted, quality, leadership brands, including Pampers®, Tide®, Ariel®, Always®, Whisper®, Pantene®, Mach3®, Bounty®, Dawn®, Fairy®, Gain®, Charmin®, Downy®, Lenor®, Iams®, Crest®, Oral-B®, Duracell®, Olay®, Head & Shoulders®, Wella®, Gillette®, Braun®, Fusion®, Ace®, Febreze®, Ambi Pur®, SK-II®, and Vicks®. The P&G community includes operations in approximately 75 countries worldwide. Please visit http://www.pg.com for the latest news and in-depth information about P&G and its brands.