Emeka Ojukwu Jr: The Reasons We Will Not Support Bianca's senatorial bid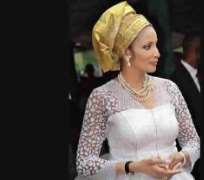 The claim that the children of the late Dim Chukwuemeka Odumegwu-Ojukwu have resolved not to support the senatorial ambition of the Biafra warlord's widow, Bianca, has literally opened the floodgates of reactions from both sides.
The latest on the matter is the allegation of Emeka Odumegwu-Ojukwu Jr that Bianca coveted the heritage of the Ojukwu family. Emeka explained to Sunday Vanguard that the point of disagreement between Bianca and the family was the former's alleged coveting of the property of Ojukwu Transport Limited, a company founded by the late Ikemba's father, Sir Louis Ojukwu.
He said it was natural for the family not to support Bianca, who he accused of grabbing what belonged to their grandfather. His words:
"Has anybody asked the Ojukwu household whether we believe in her to represent us? This is a woman we don't interact with. She doesn't talk to us.
"Apart from the above, the relevant issues that should be raised should be around her competence for office and her character, her values, and her moral fortitude among others. People should look at the woman they have come to know and decide for themselves. For us, our focus is reclaiming what belongs to Ojukwu Transport Limited.
"It is no surprise that one would not support someone that is fighting him or his family. Bianca, after the funeral of the late Dim Ojukwu, took the family and Ojukwu Transport Limited to court.
When Sunday Vanguard called the mobile phone of Bianca, a female, who identified herself as her Personal Assistant, said her principal was not available. After being told the reason for the call, she asked this writer to call back at 5pm.