UN Condemns Killings, Abduction of Humanitarian Workers... Call For Their Release, Marks 15th World Humanitarian Day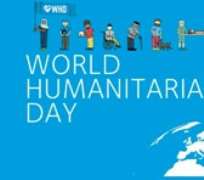 The United Nations has in strong terms condemned the killing and abduction of aid workers by boko haram terrorists.
It also urged parties to the boko haram conflict to support the work of humanitarian workers and allow their work to strive and also facilitate their access to people in need, in line with the International Humanitarian Law.
The United Nations Humanitarian Coordinator in Nigeria, Edward Kallon who made the call Friday in a joint press conference with Governor Kashim Shettima of Borno state held at the Government House Council Chamber Maiduguri further called for the release of the aid workers who have been abducted by the boko Haram terrorists.
During the World Humanitarian Day joint press conference , the Humanitarian Coordinator also called on Nigerian leaders to do everything possible in their power to protect the people caught up in the boko Haram conflict while also calling on all who are concerned to join UN in the campaign.
He added that the World Humanitarian Day is marked every year on 19 August to show and express solidarity with people affected by humanitarian crises and pay tribute to the humanitarian workers who help them and loss their lives in the course of serving humanity.
Edward said this year's commemoration marks the fifteenth anniversary since the attack on the United Nations in Baghdad, Iraq, in which 22 UN Humanitarian colleagues were killed.
"Since that tragedy, which led to this day's designation as World Humanitarian Day, over 4,000 humanitarians have been killed, injured, detained or kidnapped.
"That is an average of 300 cases every year. Civilians in conflict zones also continues to be killed and maimed, deliberately or in indiscriminate attacks", Kallon said.
According to him, around the world, conflict is forcing record numbers of people from their homes, with over 65 million people now displaced and children were recruited by armed groups and used to fight while Women are abused and humiliated.
The UN Humanitarian Coordinator asserted that as humanitarian workers deliver aid, and medical workers provide for those in need, they are all too often targeted or treated as threats.
Here in north-east Nigeria , he noted that civilians have continued to bear the brunt of the boko haram conflict that has led to widespread forced displacement, abuse and violations of international humanitarian and human rights law.
He also lamented that Women, men and children faced grave human rights violations and sexual as well as gender-based violence on a daily basis.
"Since the start of the conflict in 2009 more than 26,000 people have been killed, thousands of women and girls have been abducted and children continue to be used on a regular basis as so-called "suicide" bombers.
"Thousands of families have been forced to flee their villages and communities. At the same time, aid and medical workers who care for people affected by the violence, suffer the consequences of insecurity.
"Three aid workers were killed and three abducted in March this year in Rann. An aid worker was killed in Ngala in May and a member of NEMA's staff was killed in Damasak just last week.
"These fatalities are a stark reminder of this dangerous reality for all humanitarians. And let us not forget that the vast majority of humanitarians working to provide life-saving aid to people in need are themselves Nigerian", Kallon said.
He also assured that, " together, we stand, with the Government of Nigeria, in solidarity with civilians in conflict, and with the humanitarian workers who risk their lives to help them".
On his part, Governor Kashim Shettima commended the support and assistance of the UN and their partnership in the state on Humanitarian services while pledging state government's continuous support and cooperation with the UN Humanitarian Coordinator to bring succour to the people affected by the insurgency.
The governor stressed that despite the presence of military formations in Marte and Abadam LGAs of the state, government will not encourage nor support the quick return of people of the localities due to security reasons until the areas are found to be safe for resettlement.
He also said there was the need for more Support and assistance to the over 1.4 millions IDPs affected by the insurgency from the other LGAs while calling on people to continue to support and assist the UN Humanitarian services in the state.
Shettima added that the state government has already invested huge amount of money in the rehabilitation, reconstruction and resettlement of IDPs in some LGAs while priority has been given to education in order to provide the young and helpless with something doing as post insurgency long time plans
He said presently, hundreds of millions of naira have been released for road network construction in some LGAs to facilitate movements of goods and services apart from schools rehabilitation and reconstruction projects completed and those under construction at advance stage.