Herdsmen killings: Corps members posted to affected states free to redeploy, says NYSC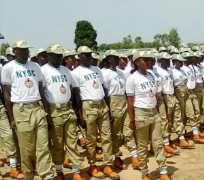 The National Youth Service Corps has said that the scheme will redeploy any corps member, who feels unsafe in states where the activities of Fulani herdsmen have led to the loss of lives.
The Director-General of the NYSC, Brig. Gen. Suleiman Kazaure, said this on Tuesday during the inspection of the NYSC Orientation Camp in Ede, Osun.
The DG, who was represented by the Director, General Service, Alhaji Abdulrasak Salaw, said this in an interview with journalists after the inspection.
He said the scheme would not post corps members into areas where they were not sure of their security and welfare.
Salaw, who said he was impressed by the facility and the cleanliness of the NYSC camp in Osun State said the scheme moved the orientation programme of Taraba and Benue States to Kogi State in order not to heighten panic among their parents and relatives.
He said, " All of us must work together to ensure that the crisis is resolved. We cannot risk the lives of corps members in Benue and that is why the NYSC orientation camp was relocated from Benue to Kogi State.
"Ordinarily, Kogi and Taraba States corps members were supposed to camp in Benue State but because of this crisis, they were moved to Kogi State.
"During the course of the orientation programme, any corps member that writes that he or she is not secured in that place, we will look into it and redeploy such corps members to another state. We may not redeploy them to the state they want but we will relocate them. We cannot keep them in a place where they feel their security is threatened." – Punch
Umar Jugari, | 1/31/2018 8:10:00 AM I Want U To Understnd That Security Is Every Body Bussines,also It Is The Duty Of The President To Make Sure That,security Of Life And Property Of All Nigerian Is Garantee.