With Llorente coming, Eden Hazard urges Michy Batshuayi to leave Chelsea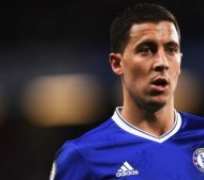 Eden Hazard has suggested that Chelsea are close to signing Fernando Llorente from Swansea City after telling Michy Batshuayi that he may need to leave Stamford Bridge in order to progress his career.
Chelsea are currently in talks with Swansea over a £15 million deal for the 32-year-old after Antonio Conte failed with an attempt to sign the striker in the January transfer window.
Batshuayi, meanwhile, started just one Premier League game last season following his £33m arrival from Marseille and now looks set for a second campaign as Conte's second-choice forward following the signing of Alvaro Morata from Real Madrid.
Asked about Batshuayi's situation at Stamford Bridge during his press conference with Belgium's national team, Hazard said: 'I spoke with him about it this morning.
Michy Batshuayi has been told to leave Chelsea by Hazard. (AMA/Getty Images)
'He is now 23. If he wants to move forward, he has to play.
I do not know if Llorente still comes but if we have Llorente, Morata and he, it will be difficult.
Riyad Mahrez set to complete transfer after offers from Arsenal, Chelsea and Barcelona
'He was especially disappointed because he had a good pre-season and was counted on more. But we all know that you'll be on the bench quickly when you're not playing.
'As a friend, I recommend him to find a solution to play. But we have to wait for Chelsea to decide on him.
'A season like last year is not good for him and not for the national team. Because for Belgium he can be important.'
Batshuayi started Chelsea's opening game of the season in which they lost 3-2 at home to Burnley, while the Belgian was used as a late substitute in the win over Tottenham and the win over Everton.
metro