Eclipse!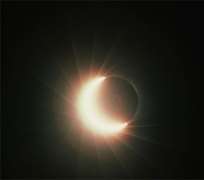 An eclipse occurs when an heavenly body such as the moon or the sun casts its shadows upon the earth,either partial or total darkness occurs, whether it's the moon that comes between the earth and the sun or the sun coming in between, either way darkness occurs,this is a deviation from the normal occurrence as the normal occurrence is for the sun to light the day and the moon to light the night.
Maybe you've not experience an eclipse before,but i have,sometimes in life,worries,fears casts their ugly shadows on us in the face of our dreams and destiny,what do you do when such an ugly shadow is cast on your life,will you just wait there and watch till you are drown or you walk,crawl,or hop out of it,i know it's not easy walking out of shadows,but either ways,you gotta get out.
I know you might have an ugly past and it's kind of threatening to reveal itself in your apparent future,how strong are you when you comes to this phase of life?
Whenever total darkness occurs and the future looks blank,will you allows those shadows to decides your fate in life or you let the past go and move into the future with a new leaf of strength, I gotta tell you this,a man's fate is not yet decided until he let the shadows of his past, his environments,his background and peers put his back in the ground.
The question now is not whether a shadow is been casted,but whether you will allow those shadows to defeat you,whether you will allow those shadows to remain there,whether you are still gonna hold onto the hurts and bruises of your pasts and be stucked in it or you advance into a new day.
At the end of every eclipse im life,there is always a balanced system,the abnormal becomes normal,the sun reclaims it's day and the moon it's night,but what are you gonna do at the end of your own eclipse and shadows,don't just sit down there and look at me like a lucozade,you gotta stand up and rewrite a new day for yourself,rewrite a new cheque for yourself,an eclipse can occur all i care,but don't let it hold you down,run past it and set a new record and you will always get ahead of those shadows.
Watch out for,WHY I DROPPED BETTY FOR CAROLINA
OYADIRAN VICTOR
STARDOM
Disclaimer:

"The views/contents expressed in this article are the sole responsibility of

EBENEZER ADURAGBEMI OYADIRAN

and do not necessarily reflect those of The Nigerian Voice. The Nigerian Voice will not be responsible or liable for any inaccurate or incorrect statements contained in this article."