"I'll Be There For You," ---- Obiano Assures Anambra Workers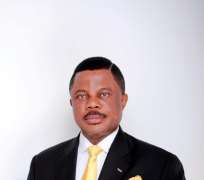 The governor of Anambra State, Chief Willie Obiano has reiterated his commitment to Anambra workers assuring them that he would do everything within his power to give them a new lease of life.
Speaking at a special event held to mark the Civil Service Day in Awka, Governor Obiano described the state civil servants as the cornerstone of his administration, pointing it out that the social health of a state can be gauged from the condition of its civil servants.
According to him, Anambra State under his watch had demonstrated a great deal of sensitivity to the plight of workers in Anambra State and assured them that "your plight is my plight, your pain is my pain and your joy is my joy."
Speaking further, Governor Obiano told the workers they were important to him saying that "any government that does not place the people first is doomed."
The governor assured that the prevailing economic depression in the country would not stop him from striving to improve the lot of Anambra workers. "We increased salaries at a time when oil prices were crashing and governments were looking for bailouts. In spite of the prevailing difficulties, we have kept our promise to always pay your salaries regularly," he declared.
Arguing that any government that does not place the people first is doomed, Governor Obiano assured the workers that he would always be there for them. Said he; "No responsible government goes to sleep when its workforce is having sleepless nights. Let me assure you once again that I shall continue to always stand by you; I will be there for you!"
Enumerating his various efforts to improve the lot of Anambra workers, Governor Obiano recalled that a few weeks after he was sworn in as governor, he rolled out four mass transit buses to ensure a smooth transportation of workers from Onitsha-Otuocha, Nnewi and Ekwulobia to Awka in order to ease out the difficulties usually encountered by workers on these routes.
He also recalled that less than one year after he was sworn in, he increased workers' salaries by 15% and subsequently cleared the three-year old outstanding cumulative salary of the state Water Corporation staff.
Promising to do more to alleviate the plight of workers when the present economic meltdown elapses, Governor Obiano observed that no government can improve the lot of its citizens without the cooperation and support of its civil servants.
He therefore urged them to "put in your very best efforts in the service of Anambra State. I urge you to show greater appetite for work, a determined drive for excellence and a commitment to a better Anambra State. I can assure you that your efforts will not go unnoticed nor your labour go unrewarded."
Earlier in his opening remarks, the Head of Service, Chidi Ezeoke, acknowledged the special attention governor Obiano has paid and continue to pay to the public servants of the State and their welfare, adding that "he has shown uncommon understanding and sensitivity to matters concerning the Public Servants and the Service."
He enumerated some of the achievements as regular payment of salaries, pensions and allowances, prompt promotions and conversions of entitled public servants, development of housing units for Public Servants at Isiagu, and regular training and capacity building of Public Servants including overseas trainings.
Mr. Ezeoke expressed immense happiness with the choice of the theme which according to him, is in tandem with the domination of womenfolk in virtually all sectors of the public service including teaching, civil judicial and medical services, among others.
Assuring the governor of the commitment of the workers, Ezeoke said, "I wish to assure you that the Public service of our state is in good health, but continuously striding towards improving its performance because we realize that there is room for improvement."
Highlight of this year's event was the presentation of 2015 African (Nigerian) Public Service Awards to 30 public servants including Okeke Josephine (Office of the Governor), Mrs Edokobi Amaka (Office of the Deputy Governor), Mrs Benedicta Ndidi Okonkwo (Office of the Secretariat to the State Government), Barr (Mrs) Christy Nwabundo Obiano (Office of the Head of Service and Mrs Nweke Elizabeth Civil Service Commission.