Marwa, other Aspirants endorses the candidature of Nuhu Ribadu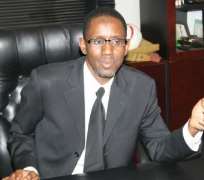 There has been an uproar in the political scene of people's democracy party in Adamawa state since the alleged primaries some members called "controversial" took place in Abuja, many aspirants were cut unaware and could not partake in the forgone primaries.The issue that positioned PDP in the state to be in serious crisis not until the recently that a committee saddled with the responsibility of reconciling ailing members began to fashion ways on appeasing those aggrieved.
The former Military Administrator of Lagos and Borno States, Brigadier General (RTD) Buba Marwa in support of Nuhu Ribadu candidature and loyalty to the ruling party has handed over his political structures in the state to the gubernatorial candidate of the People's Democratic Party, (PDP) Mallam Nuhu Ribadu.
Speaking on Friday to journalists shortly after a meeting held at his residence in Yola with his loyalists, the former military administrator noted that as a respecter of party's constitution,a stakeholder in the state it was natural for him to support the party in all aspect.
Marwa believed that Ribadu will change the deplorable present conditions of the state, Saying that after due consultation with his followers, they have decided to support Ribadu and PDP in the coming February general elections which he knows it will make Nuhu to have an edge over other contenders.
Marwa said their decision was informed because of the personality and attributes of the former EFCC boss, who has conducted himself well both at home and abroad.
In a related development the former managingg director of Nigeria port authority, Engr Omar Suleiman (Umarana) who was vying for a senatorial ticket of the Adamawa central senatorial district but was denied the privilege of partaking in the primaries despite fulfilling all conditions needed in the party, he said PDP is his party of choice and cannot leave the party for whatever reasons, though maintained that base on the party's constitution there has not been primaries ever taken place.
The former senatorial aspirant though laments that his name was never part of the voting system in Abuja, was even shocked to discover that Engr Aishatu Binani as a woman could not even polled a single vote,but let all things to be bye-gone as it deemed necessary for PDP to be victorious in the coming election there must unity among the party.
"I am a PDP card carrying member, I am still waiting to see what the party can do to what happened in Abuja, as far as I am concerned myself and Aishatu Ahmed Binani we were excluded in the last party primaries in Abuja, it surprised me to see the result that Hon Idi Hong had polled 243 votes out of 250,but be that as it was be i forget about everything i now want to do my best to see that PDP wins in Adamawa state." Omar said
"My governor, i am given you the whole of my structure,as you are seeing them now they are your property make use of them. I am not only given you my party structure but iam equally handing over my campaign office and any other things inside for my support for you and my loyalty to the party"Omar added
While responding to the duo gesture by the eminent politicians,Ribadu said thanking them is never enough but he will replicate this gesture by ensuring that he bring development and economy vibrancy will thrive in the state during his tenured.He is therefore extending his hand of fellowship to all aggrieved members of the PDP to put their grievances behind for the benefit of change adding that everybody will be carry along if given the opportunity to govern the state .
He thank the politicians and their supporters for believing in him and for handing their political structures, promising them that he will not disappoint their good will support when given the mandate to rule the state.