Tinubu, Keshi, Okoku, Odiye bag shield award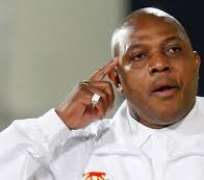 n recognition of their contributions towards the upliftment of the lives of less-privileged kids in the society, the quartet of Senator Oluremi Tinubu, Coach Stephen Keshi, ex-internationals Paul Okoku and Godiwn Odiye have been awarded a shield award by the Mainland Local Government.
Presenting the awards during a lavish ceremony held at the headquarters of the Local Government Education Authority in Yaba, the Executive-Secretary of the LGEA, Lawrence Adetona said the shield award, which is the highest recognition bestowed by the government on deserving and outstanding personalities, who have supported the drive to improve the lives of children in the society was given to the likes of Keshi, Okoku and Odiye because of their support to pupils of St Paul's Catholic School, Ebute Metta.
Recalling that the trio donated laptops and a generator set to their former Primary School, Adetona said this gesture has already boosted the quality of education at the school, adding that the former ex-internationals also sponsored the annual inter-house sports of the school and fed the children during this year's Children's Day and World Hunger Day celebration.
"We at the local government are moved by what these sons of the country have done for our children and we are with this shield award saying a big thank you to them for their efforts in helping us deliver the dividends of democracy to our constituents", said Adetona.
And in his acceptance speech, Okoku has said he was humbled with the award and promised not to rest on in a his drive to help less-privileged children in the society.
"I am humbled and deeply moved by this award. I thank all those who made this possible. This is not about me, but for all who supported this project. Therefore, I must acknowledge here that I accept this award on behalf of Keshi and Odiye, who contributed on equal measure to make this a reality for these pupils.
"My appreciation also is extended to my friends in the USA, Peter Nosegbe, John Itohan and Taofic Gaza, who made personal sacrifices to travel from the US to Nigeria and some of my ex-internationals, Henry Nwosu, Waidi Akani, Isa Shofoluwe and Lukemon Oshun who graced the computer presentation ceremony.
"This award makes everything we've done worthwhile and it's an inspiration to do even more. This humanitarian project started in memory of my late mom, Mamao Susana Okoku", added Okoku.