Let Any Man I've Had Affair With Speak Out—IK Ogbonna Challenges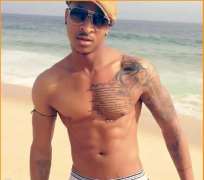 Nollywood actor and model, Ik Ogbonnaya, has debunked claims that he was a gay.
The actor noted that as a man, he will definitely need someone is his life but sure not a man. He challenged any man to come out face-to-face and reveal that he ever had any affair with him.
IK was quick to admit that he though he loves women, but cleared the air that it's strictly business and nothing more.
'Yes I'm someone that likes women, but it is controlled. So for me I control my urge whenever it comes to women, I'm more of a business focused person in whatever I do.'
He added that even is 'jigolo' roles in movies are not his doing but a clear interpretation of the scripts and orders by the director.
'In Nigeria, people have stereotype about roles actors and actresses play in a movie. In most cases they will look at a role you played before and want you to continue it that way. For me, when you look at me, you see someone who is flashy, what kind of role will you give me as a producer, it does not mean that I cannot play any other role, with makeup, I can wear a new look because everything is a character you want to interpret.'
ok | 6/30/2014 1:11:00 PM Just have a wife with you.