Anambra Guber's Cap Fits Senator Chris Ngige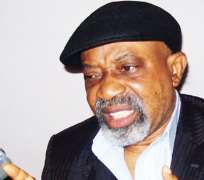 The November 16 governorship election in Anambra State is being waited for by different interests in that state, like religionists all over the world begin by the starting month of the year to hang-around for the month of December, to celebrate Christmas.
But without a person like Senator Chris Nwabueze Ngige, of All Progressives Congress (APC) in the race, such yearnings and expectations of people concerning the election would have been a boring situation.
Senator Ngige is a social democrat doing great in strengthening democracy in the country, not minding the brickbats and bickering from political traducers. Keen observers know this!
As a Senator representing Anambra Central Senatorial District, he is one leader whose crusade is not divergent to the age-long matrix that people should respect their leaders, but not to be afraid of them.
He is a wise man, who has nothing to do with lack-of-common-sense. This is because a futile leader can never be clever than the wise masses. Ndi-Anambra know this.
Anambra people have seen that Senator Ngige is a wise man and they are giving him their unflinching support for the election.
Senator Ngige is one leader who did not shy away from bringing Anambra State to the front burner for the people to understand that the state had money with which it could develop, unlike in the years, when godfatherism nearly pummeled the state to the soil.
Senator Ngige brought the people to face the real fact: Informed-decisions' democracy. He is aspiring for the votes of the electorates, not for personal interest, but for the interest of the Anambra public for liberty and equity, which a democracy should not be bereft of.
Senator Ngige has been tested in these areas when he was a governor and is trusted that he is one leader who does not take pride in seeing the led suffering.
He is so important for the health of the country's democracy and the development of Anambra State, without dividing opposing views and not seeing such views as anti-Ngige.
He is not a dictator in a democrat's garb, coercing people to his personal belief. He believes that the most enduring democracies burgeon from recurrent and people-oriented projects, and not by personal-oriented projects.
It is time for Ndi-Anambra again to bring back Senator Chris Nwabueze Ngige to the Government House, Awka, to make sure that the projects he started, when he was governor, but was prejudiced by the court, are completed.
Senator Ngige is a man who knows that there can never be democracy without the people. Anambra people should vote for him again, because the people come first in his leadership. He is a man, who sees that the true meaning of democracy is, by carrying the people along.
Senator Ngige believes in the ballot and not in bullet. He sees the latter as an enemy of the people and democracy and the features of tyrants. And he is not a tyrant. He has shown that the wealth of the people should be judiciously used, to enable a modest system.
Senator Ngige knows the tenets of modern democracies. Under him, Anambra people did not suffer and will not face difficulties again, because he shows that he knows how to tackle challenges tweaking to globalization, and acclimatising to the aging world.
Come November 16, it behooves Anambra people to vote overwhelmingly for Senator Chris Nwabueze Ngige for democratic decision-making effective, restructuring broken political institutions and civic associations in Anambra State, and reintegrating legitimate tolerance into the practice of democracy in the state.
It is evident that come November 16, Anambra people are not going to vote for any candidate with lack-of-wisdom and lack of self-restraint. Since this is the case, Senator Chris Nwabueze Ngige is the person whom the cap fits in the Anambra gubernatorial election.
Odimegwu Onwumere is a Poet/Writer, writes from Rivers State. Tel: +2348057778358. E-mail: [email protected]
Disclaimer:

"The views/contents expressed in this article are the sole responsibility of

Odimegwu Onwumere

and do not necessarily reflect those of The Nigerian Voice. The Nigerian Voice will not be responsible or liable for any inaccurate or incorrect statements contained in this article."
Articles by Odimegwu Onwumere
Eagle | 9/30/2013 4:55:00 PM There is nothing that ngige can do that someone like obiano the candidate of APGA cannot do for the good development of anambra people afterall the outgoing Gov. Peter obi did so well in anambra state, so i would advise the people of anambra to give their support to the APGA candidate (obiano) to continue the good work from where obi stops. Anambra people will shurely get there by God's grace.