Mass Exodus in Dangote groups….. As Aliko`s Fortunes dip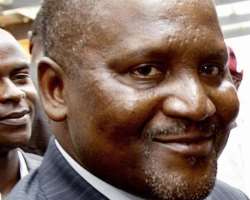 One by one they are leaving. As the fortunes of Nigeria's richest man continue to take a nose dive, the financial empire of Alhaji Aliko Dangote listed by Forbes magazine as amongst the world's richest men is already cracking up, and beginning to collapse under its own debt and mismanagement.
The auguries are not good. Consider just a few recent events: First has been the mass exodus of some top brass within the Dangote group who have taken to the exits before what is believed to be the imminent crash. Mr. Uzoma "Uzor" Nwankwo; the Group Executive Director in charge of Corporate Finance abandoned ship after just four years in charge; ostensibly afraid the black box-like financial management at the Dangote group will implode in a wave of accounting scandals.
Alhaji Tajudeen "Taju" Sijuade; the former chief accountant and group finance director left after 20 years nervous that hidden billions of debts and operating losses inside private partnerships and dizzyingly complex accounting schemes that were intended to pump up the buzz about the Dangote group and support the inflated stock price of its companies will explode.
Anthony "Tony" Hadley; an expatriate hired from the French building materials conglomerate, Group Lafarge for $5 million a year left in anger and frustration accusing Aliko Dangote of duplicity and reneging on the terms of his employment contract. Also already taken to the exit is Samaila Suberu, the finance controller cum treasurer of the Dangote group. A source close to Dangote who pleaded anonymity for obvious reasons told Huhuonline.com that: "they are all resigning now for 'personal reasons' but I would think they have looked down the road and know this stuff is unfixable and would rather abandon ship now than resign in shame later."

As if that was not enough, the Senate Committee on Banking, Insurance and Other Financial Institutions named Aliko Dangote among the beneficiaries of the N53.3 bn Failed Banks' Loans. Dangote, then a director of Liberty Bank Plc (in Liquidation), secured a loan of N650m without collateral for Bullion International and Dangote Group of Companies.
Although Dangote claims to have refunded all the money, the conflict of interest and bad publicity was the latest in a line of embarrassing gaffes for the head of a business enterprise whose vision as stated on the group website is: "To be a world class enterprise that is passionate about the standard of living of the general populace and high returns to stakeholders." The Senate Committee chair, Senator Nkechi Nwaogu, reportedly received death threats on account of the published list and investigations traced the threats to Dangote's home state, Kano.
Huhuonline.com investigations have zeroed in on accounting schemes and other questionable business practices - including a bizarre sex angle – by frantic Dangote group officials who are racing against time to hold the bottom from giving way as their debts have been mounting, creditors and banks breathing down their necks asking for re-payment of past loans; falling stock price was falling and that the last people to learn of the looming reckoning were going to be millions of Dangote shareholders and innocent Nigerians an unenviable position for a group whose mission as outlined on its website is to: " Touch the lives of people by providing their basic needs." One manager-level employee from the group told Huhuonline.com that: "I know it would be devastating to all of us, but I wish we would get caught. We're such a crooked company."
It seems almost certain that the chickens are coming home to roost for Aliko Dangote, but the man's unpopularity runs far deeper. After he threatened President Yar'adua over a planned move by the government to increase the number of cement import licenses to importers outside the sector, the Cement Manufacturers Association of Nigeria (CMAN), called off Dangote's bluff and declared their unflinching support for government's decision to import cement to augment the shortfall in local production.
Rising from a stakeholders meeting on Thursday, July 2, CMAN in a statement by its Executive Secretary, Mr. J. A Salako noted that the group had always held the position that importation of cement was an imperative in the short-term to ensure that national demand for the product could be met since local production remained grossly insufficient.
Despite being cleared of any wrong doing by SEC, in the share scam involving African Petroleum AP Plc shares of his erstwhile friend, now bitter enemy, Chief Femi Otedola, Huhuonline.com has learnt that on the instructions from Aso Rock, the Board of the Nigerian Security and Exchange Commission (SEC), where Dangote served as second vice president has asked the business magnate to resign his position, saying he has become too compromised with his shady business dealing. According to a source who elected anonymity the move is to allow SEC restore public and investor confidence on the market regulatory agency.
Apparently, Aliko Dangote's lavish "investment" in political donations in the ruling PDP also seems to have run up against the limits of its return as the man is yet to get a response from the series of "help-me calls" he has been making to Aso Villa as the wheels of his financial empire started coming off. Forbes magazine which estimated Dangote's net worth at $3.3 billion noted that the fortunes of the world's number 334 richest man has been shrinking, but could not establish the extent of Dangote's loss because of the group's secretive and mind-numbingly complex black-box like business operations. Forbes blamed the loss on the global economic crisis.
|
Article source