UNIPORT Students Block East/West Road In Protest Of Slain Colleagues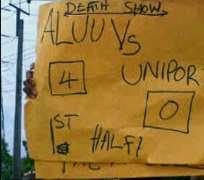 Hundreds of students of the University of Port Harcourt (UNIPORT) on Tuesday went on rampage blocking the busy East/West road and the Choba/Rumuokwuta road in protest of the gruesome murder of four of their colleagues last Friday.
The students, who defied appeals by the University's authorities, made good their threat to protest the killing of their colleagues, who were beaten to death and set ablaze by the vigilance group from the Aluu community for alleged robbery.
The protest caused vehicular traffic jam on the road, forcing passengers to trek to their various destinations.
The students carrying placards and photos of their slain colleagues, called for justice.
And if justice was denied, they vowed to retaliate the killing of their colleagues.
Armed policemen and soldiers were drafted to the scene to maintain law and order and Channels Television's correspondent reported sporadic gunshots and the shooting of tear gas by the security operatives, who attempted to disperse the students.
The protesting students were reportedly marching to the office of the governor of Rivers State, Rotimi Amaechi but were stopped by the police.
Frightened students were also spotted attempting to vacate their hostels but were sent back by policemen.
The students had earlier been told to remain calm and allow security agencies perform their duties.
The university also ordered that the national flag be flown at half-staff and suspended the students' union week that was to start today.
The identities of the students have been made public by UNIPORT authorities. They are: Biringa Chiadika Lordson, a second-year Theatre Arts student, with Matriculation Number U2010/1805036, Ugonna Kelechi Obuzor, also a year two Geology student with Matriculation Number U2010/5565149 and Mike Lloyd Toku, year two Civil Engineering student with Matriculation Number U2010/3010094.
The fourth person, Tekena Erikena, was yet to be identified as a student of the University of Port Harcourt, but information had it that he was a student of School of Basic Studies.
CHANNELSTV.COM