Again EFCC Arrests 4 Over Money Laundering Law Infringement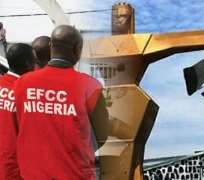 SAN FRANCISCO, October 09, (THEWILL) - The Managing Director of NICON Properties, Wuse Abuja, Mr. Yahaya Atai Odoma and the Accountant of the company, Mr. Rufai S. Bidu were among four persons arrested by the Special Control Unit Against Money Laundering, SCUML on October 9, 2012 as part of the on going effort to enforce compliance with anti- money laundering laws by Designated Non- Financial Institutions, DNFIs.
Two others arrested during the special operation are Mr. Obee Williams Abu and Mr. Enger Peter of Hotel de Lamitel, Kadu Kuchi district, Abuja.
Section 5 of the Money Laundering Act 2011 requires existing DNFIs to submit to the ministry of commerce, within three months from the commencement of the Act, a declaration of their activities and all record of transactions in chronological order, indicating each customers surname, forenames and address. Section five sub section two further states that "The Ministry shall forward the information received pursuant to subsection 1 of the section to the Commission within 7 days of its receipt.
The DFNIs include dealers in jewelries, cars, and luxury goods, chartered accountants, audit firms, tax consultants, clearing and settlement companies, legal practitioners, hotels, casinos, supermarkets, or such other businesses as the federal Ministry of Commerce or appropriate regulatory authorities may from time to time designate.
The EFCC had on October 4, 2012, arrested officials of seven companies for non- compliance. The company includes Pent House Properties; Jorany Hotels, Wuse 2 Abuja; Febsons Hotels Nigeria Limited, Wuse zone 4, Abuja; Nawa Properties, AMAC Plaza, Wuse Zone 3, Abuja; Grand Product Company Limited, (Grand Square); Abmed hotels Limited and Lamonde Hotels.
The Head SCUML, Angela Nworgu says more arrests will be made as the enforcement exercise continues.