CURBING FLOOD DISASTERS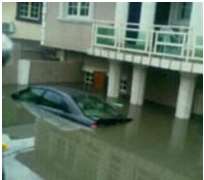 In this year 2012, there seems to be an abnormal weather phenomenon globally. The past week has witnessed an unusual amount of rainfall. Scientists have attributed the high precipitation to climate change and global warning. This includes depletion of the ozone layer. What exactly is global warming? According to Wikipedia and other Research sources "Global warming is the rise in the average temperature of Earth's atmosphere and oceans since the late 19th century and its projected continuation… The effects of an increase in global temperature include a rise in sea levels and a change in the amount and pattern of precipitation."
The UK Environmental agency states that over 5 million people in England and Wales live and work in properties that are at risk of flooding from rivers or the sea." The National Oceanic and Atmospheric Administration publishes an insightful National Climate Data which provides insight on rainfall statistics. The Environmental Defense Fund states that "The most respected scientific bodies have stated unequivocally that global warming is occurring, and people are causing it. We can already see the effects of global warming in our world through disappearing habitat, shrinking arctic sea ice and extreme weather. "
While there has been flood disaster in almost all parts of the world, we want to focus on the issue of flooding in Nigeria and ways to curb or deal with the flood. Recently, my wife and I had to travel from Asaba and Abuja. A road trip of seven hours took us 14 hours because Lokoja was flooded and we had to go through Benue. Even if we were amenable to paying the 28,000 to 30,000 Naira airfare, there were no available flights. On the road, we witnessed amazing flooding in different parts of the country. Starting from Asaba, we saw hotels and houses submerged in water. Having lived most of my life in the US, specifically Florida, I am used to hurricane and other natural disasters. In 1992, Hurricane Andrew hit South Florida and we needed to come to terms with coastline and inter-line flooding, besides fallen trees. Also, in 2006, when hurricane Katrina hit New Orleans, Louisiana, they had to deal with the overflow of the riverbanks. That was the first time I became familiar with the term levee which is simply a natural or man-made wall that is used as a river defense to flood.
.
While there are political undertones to the issue of global warming and climate change, we will agree that there seems to be a change in the weather patterns this year and it has been getting worse gradually. The farmer may no longer be able to plan based on seasons. When does he plant and when does he gather? Even burial in some communities are not allowed during the raining season.
We have not reached the level where we gather up to the minute weather statistics in Nigeria. Nonetheless, Climatemps.com tells us that: "The average temperature in Nigeria is 26.4 °C (80 °F); The range of average monthly temperatures is 3.5 °C; The warmest average max/ high temperature is 33 °C (91 °F) in February & March; The coolest average min/ low temperature is 21 °C (70 °F) in August; Nigeria receives on average 1626 mm (64.0 in) of precipitation annually or 136 mm (5.3 in) each month; On balance there are 121 days annually on which greater than 0.1 mm (0.004 in) of precipitation (rain, sleet, snow or hail) occurs or 10 days on an average month. The month with the driest weather is January when on balance 40 mm (1.6 in) of rain, sleet, hail or snow falls across 2 days; The month with the wettest weather is June when on balance 336 mm (13.2 in) of rain, sleet, hail or snow falls across 20 days.
Mean relative humidity for an average year is recorded as 84.7% and on a monthly basis it ranges from 80% in March to 88% in June, July, September & October." The occurrences in 2012 may have made these statistics invalid.
After Hurricane Andrew, the City of Miami and the State of Florida came up with very stringent building codes. Of course, there is a building plan in place. The problem with Nigeria is the lack of town planning and enforceable building codes. In Asaba,, many homes are built on drainage lines and too close to the street. It is as though the owners are preparing for future compensation from the State or dragging he streets with motorists. These will be the same people that will start cursing the government when it embarks on demolition to give the city a facelift. If you are building your house, why will you put you fence close to the street and thereby turn the street into an impassable one-lane road?
As we have experienced this past weeks, flooding is caused by overflowing of the river banks when there is an excessive amount of rainfall. So, other solutions to flooding include dams, sea walls (such as levees) and diverting the water to other dry areas. Of course, the illegal gas flaring all over the State does not help matters. Environmentalist will tell you clearly that gas flaring also depletes the ozone layer and contributes to climate warming. While we are dealing with the natural climate change, let us put our heads together and build our homes properly. The government should embark on building levees along river banks. May God give us the wisdom to curb the flood disaster ravaging the world.
Prof Alex Osondu Atawa Akpodiete is an author, Computer Scientist, Educator, Consultant, lawyer, Political Analyst & Social commentator. He has a Doctorate degree in Jurisprudence from the US. He has lectured Law, Ethics and Security & Intelligence Studies at the University level here in Nigeria and US. He also writes for a state daily newspaper & national monthly journal. He currently divides his time between Nigeria and USA where he runs a PR and an international capacity building firm ATAWA GROUP. Contact him on 08138391661 or [email protected] He is also on Facebook and you can follow him on Twitter.
Disclaimer:

"The views/contents expressed in this article are the sole responsibility of

Prof. Alex O. Atawa Akpodiete, Esq.

and do not necessarily reflect those of The Nigerian Voice. The Nigerian Voice will not be responsible or liable for any inaccurate or incorrect statements contained in this article."
Articles by Prof. Alex O. Atawa Akpodiete, Esq.