JTF Soldiers On Rampage, Raze Vehicles, Houses, Over 50 Persons Killed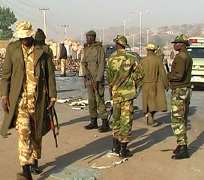 SAN FRANCISCO, October 08, (THEWILL) – Soldiers attached to the JTF in Maiduguri Monday went on rampage after an IED planted by the Boko Haram hit their patrol vehicle killing the head of the team, a Lieutenant and wounding others.
The attack occurred at about 7.15 am this morning.
Eyewitness said over 50 persons were killed when angry and charged soldiers took to the streets in search of members of the Boko Haram and the process opened fire indiscriminately along the busy Lagos Street to avenge the death of their leader and wounded soldiers.
Over 100 houses and shops were torched by the soldiers with over 50 vehicles burnt along Lagos street in the Gwange district as soldiers advanced in search of their targets. The NUJ building in the district was also torched, while several persons trapped in their shops and homes were burnt beyond recognition.
Eyewitnesses say they heard cracks of gunfire and explosions as soldiers engaged the Boko Haram for minutes in a street gunfight.
JTF Spokesman, Lieutenant Colonel Sagir Musa in a text message to reporters confirmed that a patrol team was bombed by the Boko Haram but denied that any soldier was killed. Sagir said only two soldiers were wounded and have been admitted at the University of Maiduguri Teaching Hospital.
Meanwhile, the Deputy Governor of Borno State, Alhaji Zannah Umar Mustapha who visited the Gwange area with heavy security presence at about 3.pm expressed shock at the damage and sympathized with victims and families of those that suffered loses.
He assured that Governor Kashim Shettima who is abroad on a working visit would dish out palliatives on his return.
Mustapha further appealed to members of the Boko Haram to embrace peace warning that anytime soldiers are attacked it could lead to more destruction of innocent lives and properties when they strike back to defend themselves.