Kayode Salako, Others Condemn The Killing Of UniPort Students...Lampoon Government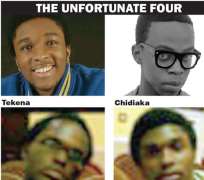 The gruesome killing of four UniPort students alleged to have stolen a phone in Aluu has become the topic of discussion amongst every concerned citizen in this country.
The student, two cousins and other two were beaten to stupor and later set ablaze.
While their families have been thrown into perpetual morning since yesterday that the incident happened, Kayode Salako and other Nigerians too have termed the act to be barbaric and inhumanity to human.
" I'm deeply disturbed! The other day Cynthia was killed and people said foolish things like "yes,it serves her right, how could she go to meet men she never knew?" So does that justify her ruthless killing?
Few days ago, 4 UniPort students alleged of stealing, were killed gruesomely like they were never humans because of some unproved allegations. How?! How did we become like this? Then they were set ablaze after the torture? Just as they said in Cynthia's case, " it serves them right!". To the people applauding this uncivilised and barbaric act: Did you see them steal the phones or do you know anyone they robbed?! Were these boys caught with weapons or harming anybody?
These boys may have just been victims of bias and miscalculated or misinterpreted perceptions. I am truly disturbed. We just killed 4 potential future leaders like that, while the real thieves (the economic saboteurs, the enemies of Nigerians) walk the corridors of power with impunity, flexing their lean muscles over our frustration.
Where is Farouk Lawal and co.? Where are the nation's oil thieves? Where is Bode George and the many political armed 'robbers'? Where is Lucky Igbinedion? Where are all these people? Do they have tyres around their necks by now?! I am truly disturbed and my heart bleeds.
The most painful aspect of all these barbaric tendencies is that today, you see worship centres on every street in Nigeria-Churches,mosques,shrines everywhere, yet wickedness ravages the land. Where are the items these boys stole? Who are the victims?!
We call on the IGP and the President of Nigeria to avenge for the souls of these young Nigerians, who were brutally murdered, to prove to Nigerians that our country is not a JUNGLE as some of us have grown up to believe. No wonder the bible says ' the heart of man is desperately and terribly wicked! What type of a country is this?!
God help Nigeria, God help our youths!" Said by Kayode Salako, President CANN and Fasholamanian.
>

Click the link below to go to...
Nollywood Expectant Mums Ronke Oshodi, Lola Margaret, Bisi Ibidapo, Mercy Johnson Expect Babies Next Year
Dino Melaye In Pregnancy Paternity Mess With Bisi Ibidapo Obe**Allegedly Told Bisi To Abort Pregnancy, Dumps Her For Another Actress
CELEBRITY QUOTE: If they like they should call it bleaching or washing----Rukky Sanda
Actress vents anger against bank after security door fails her thrice
Sexy Budding Actress, Belinda Effiah Excited Over Success Made So Far
I'm Still A Virgin Even After Sexual Harassment From Nollywood Producers--Actress, Annabella Zwyndila Reveals
STUNNING! GHANA WOMEN ARE THE WORLD'S 'MOST UNFAITHFUL' – SURVEY REVEALS
Davido Influence May D Break Up With Sqaure Records