SECRET REASONS SOCIETY LADIES DATE FOREIGN BASED GUYS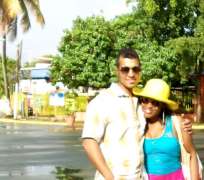 Have you noticed that so many of our female celebrities, especially the actresses in both the English and Yoruba speaking version of Nollywood don't only go to shop for their clothes, travel for vacation or go to shoot movies abroad, they also prefer lovers who are based abroad.
Every now and then, slang like "her American based boyfriend or her London based lover" has become a common norm for pen pushers.
The question now is, why are they neglecting our handsome men who live here in Nigeria to fall in the arms of those abroad, is it that men who live in Nigeria are ugly or there is no responsible one's around?
After a research was conducted on this, we were able to gather the real reasons many celebs prefer Nigerian men who are based abroad to our eligible bachelors based in the country.
FREEDOM- Because of the nature of the job, some Nigerian actresses prefer to settle for Nigerian men based abroad. Of course he won't always be around to monitor her whereabouts; she won't have to neglect her job and location to run home to tend to her family.
As the jobs demands, she can travel for days or weeks and for a lady who is so used to flirting around, she would have all the whole time and freedom in the world to do that.
• COMFORT- In today's world, every lady wants to be comfortable, being a celebrity, you are expected to drive the best cars, wear expensive clothes and jewelries and be very comfortable but most celebrities can't live solely on what they earn, they need someone to spice up their bank accounts and most Nigerian guys based abroad are ready to flaunt all the cash without blinking an eyelid. It's showbiz so they have got to 'SHOW'.
• LOVE- Some of the celebrities fall in love, not for his money or other benefits; they are only interested in settling down with a foreign based guy.
• SECURITY- As we all know, if anyone gets married to a legal citizen in UK or US, automatically, she become a citizen too, that's of course a plus for her, she can go in and out of the country as she wishes.
• WIND OF SEASON- That's the current trend now, so many single celebs follow the trend since there are so many benefits in it!
• THEY ARE MORE ROMANTIC- It is believed that most Nigerian men are not romantic enough, thus, they prefer Nigerian based abroad or even foreigners so as to have an original experience of the romantic movies they act!
• STATUS QUO- Some ladies naturally love men who are based abroad, they get excited and feel cool that they are dating a foreign based guy; just the status alone makes them feel like they are on top of the world.
• NO FAMILY PRESSURE- Most Nigerian guys based abroad fancy female celebrities, and our celebs fancy them too because they won't have so much pressure from family and friends who may go against their getting engaged with a celebrity who is believed to have lived a wayward life in the course of their job.
• COVER UP- Some celebs who don't really have a serious relationship with anyone tell those who care to listen that they are engaged with a foreign lover when they are being pressurized by people, especially the press. That serves as a good cover up to save them the embarrassment.
Click the link below to go to...
Nollywood Actress, Tonto Dike Displays Her Stupidity On Twitter.
Uti Nwachukwu In Alleged Gay Mess With Alex Ukubo, Caught Pants Down With Alex? Uti Reacts
Peter Okoye Campaigns Against Domestic Violence
Hip Hop Guys Force Lagbaja To Remove Mask
Ngozi Nwosu Denies Public Fund Raise...Moved To Cotonou
Stephanie Okereke's Husband Stages Surprise Birthday Bash For Her [Photos Inside]
Latest On Dame Patience Jonathan's Health
Yahoozee Crooner, Olu Maintain Dumps US Lover, Natalie For Mochedda?
Lagos Big Boy Buys Actress Bimbo Thomas An SUV...Moves Her Into Ajao Estate Apartment
Yvonne Nelson Appear On MSN African
Cossy Orjiakor's Life Threatened? Claims Laptop Theft By Own Tenant