Senate President Exonerates Self From Decamping Senator Boroffice's Travails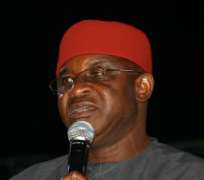 ABUJA, October 04, (THEWILL) - President of the Senate, Senator David Mark, has distanced himself from the alleged plot to remove Senator Robert Boroffice from the Senate, and described the allegation of the Action Congress of Nigeria (ACN) as unfounded and mischievous.
According to Mark, Boroffice, representing Ondo North in the Senate, is the architect of whatever fate is befalling him in the ongoing imbroglio over the propriety of retaining his seat in the Senate after decamping from Labour Party (LP), the platform on which he was elected, to ACN.
ACN spokesperson, Alhaji Lai Mohammed, had in a recent public statement, accused the Mark-led Senate of employing arm-twisting tactics to declare Boroffice's seat vacant.
But Mark recalled that Boroffice had himself written to the Independent National Electoral Commission (INEC), notifying it of his resignation from the Labour Party (LP) and requesting the commission's opinion on the move while alleging divisions in LP.
The commission, in its response, declared that it has "no record of any division in the Labour Party to justify your (Boroffice) resignation from the party."
The INEC response, dated 13th September 2012 and signed by the secretary of the Commission, Abdullahi A. Kaugama, further stated that "Section 68(1) (g) of the 1999 Constitution (as amended) does not operate in your favour, as there is no division in the Labour Party.
"It is, therefore, incongruous and smacks of sitting logic on its head for the ACN or its spokesperson to conclude that Senator Mark-led Senate has deployed jackboot strategies to declare the seat of Senator Boroffice vacant," he said.
"It is wicked and mischievous for the ACN to allege that the Senate leadership has a hand in Boroffice's fate when it was the Senator that personally took himself to INEC. Why did Distinguished Senator Boroffice write to INEC if he knew that the decision to vacate his seat or otherwise lies in the courts?"
Mark added that the import of INEC's letter is that Senator Boroffice remains a Senator of the Federal Republic elected on the platform of the Labour Party, and as such, cannot be recognised as a Senator of ACN extraction.