Masterminds Of Mubi Massacre Must Die, Says Mark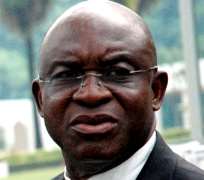 ABUJA, October 03, (THEWILL) - President of the Senate, David Mark on Wednesday prescribed death sentence as the "minimum punishment" for masterminds of the Mubi massacre and other terrorists in the country.
Mark, speaking after a resolution of the Senate condemning the attack in strong terms, also demanded the quick apprehension and prosecution of the murderers.
The senators urged the Federal Government to expeditiously apprehend the perpetrators of the act. They decried the recurrent tendency of government to forget to tackle terrorist attacks to a timely and conclusive end until another attack occurs.
Speaking on Order of Urgent National Importance raised by Senator Jibrilla Bindawa (PDP, Adamawa), Mark lamented the situation where gunmen went from room to room, calling names, dragging them out and slaughtering them.
"I think it is totally unacceptable. Even if it is just attacking the symptoms now, those involved must be arrested and brought to book," Mark said.
"I know that this is a democracy and with due respect to all of us, capital punishment is still in our statute. This is an opportunity for us to test it and to use it as a deterrent to others. It has to be done as fast and as speedily as possible. It is not that crimes don't take place in other countries; they do, but it is the reaction of government and the speed at which those who are involved are arrested and tried and punished accordingly that matters."
Mark observed, with sadness, that the Nigerian government tends to forget crimes when they are committed, and only wait for the next one to happen.
"I think we have gone beyond this point of singing these songs of lamentation. We should not be lamenting, I think we need to act and government needs to act as fast and swiftly as possible.
"Terrorists will succeed once they can stop you from what you want to do. Now parents will be very scared sending their children to universities and polytechnics. Today it is Mubi, who knows where and when it will happen in the next town. How many policemen can you put in various universities and polytechnic in this country? It is absolutely impossible. There is no way; it does not matter how well you fund the security agencies.
"There are very serious security challenges and we should address them. The people who are involved now, that is those who have lost their lives, have done so not as a result of their own fault. Every state government today has some responsibility towards providing security to those who live in that state. Federal government also has the same responsibility. We all have responsibility, even the local government."
Mark also observed that the country's security challenges are "grievous" and require to be tackled headlong.
While some senators who spoke faulted security agencies for the occurrence, others blamed the political leadership.
Deputy Leader of the Senate, Senator Abdul Ningi noted that the massacre occurred as a result of failure of leadership in the states and overstretching of security agencies.
"People who ordinarily should not have been governors, legislators find themselves in office. Therefore, when you are saddled with that responsibility and you don't have the vision or mission of what the country desires, what you have is failure," he concluded.
On her part, Sen. Oluremi Tinubu described the situation as a reflection of a nation under siege and peril because the "present government has not delivered the dividends of democracy and this is the time to declare a vote of no confidence on the government."
Sen. Adebunmi Adetumbi described the killing of students in Mubi as a "destruction of our future," lamenting that there is no safe place in the country anymore.
In the same vein Sen. Barnabas Gemade said the attacks in Maiduguri and now Mubi were orchestrated to destabilise the foundation of the economy of that section of the country.
"These cities are the commercial nerve centres of that region. We used to have porous borders but now we have porous cities."
The 43 students were killed on Monday, the country's 52nd Independence Day anniversary, by men suspected to be adherents of the Boko Haram Islamist sect, who have a reputation for launching attacks on Independence Day and other major celebrations. While the Federal Polytechnic, Mubi lost 26 students, 14 were killed at the other higher institutions.