Bloody Mayhem In Nigeria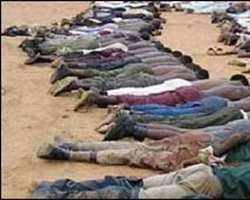 Many people were arrested after Sunday's violence in Bauchi
Dozens of people have been killed after Islamist militants staged three attacks in northern Nigeria, taking the total killed in two days of violence to 150.
A BBC reporter has counted 100 bodies, mostly of militants, near the police headquarters in Maiduguri, Borno State, where hundreds are fleeing their homes.
Witnesses told the BBC a gun battle raged for hours in Potiskum, Yobe State and a police station was set on fire.
Some of the militants follow a preacher who campaigns against Western schools.
The preacher, Mohammed Yusuf, says Western education is against Islamic teaching.
There has also been an attack in Wudil, some 20km (12 miles) from Kano, the largest city in northern Nigeria.
A curfew is in force in Bauchi, the scene of Sunday's violence.
Sharia law is in place across northern Nigeria, but there is no history of al-Qaeda-linked violence in the country.
Nigeria's 150 million people are split almost equally between Muslims and Christians and the two groups generally live peacefully side by side, despite occasional outbreaks of communal violence.
Militants chanting "God is great" attacked the Potiskum police station at about 0215 local time (0115 GMT) - the same time as the raid was launched in Maiduguri.
The police station and neighbouring buildings in Potiskum have been razed to the ground, eyewitnesses say.
Two people have been confirmed dead and the police have made 23 arrests.
Fringe group
The corpses of civilians are scattered around the streets of Maiduguri, after being pulled from their cars and shot, eyewitnesses say.
The police and army are patrolling, firing into the air, apparently trying to clear civilians from the area.
There are unconfirmed reports of a jailbreak in the town.
In Wudil, three people have been killed and more than 33 arrested. The senior police officer in Wudil has been wounded.
Security is said to have been beefed up in Plateau State, to the south of Bauchi, where hundreds were killed in clashes between Muslims and Christians last year.
Mr Yusuf's followers in Bauchi are known as Boko Haram, which means "Education is prohibited".
They attacked a police station on Sunday after some of their leaders were arrested.
Correspondents say the group is seen locally as a fringe group and has aroused suspicion for its recruitment of young men, and its belief that Western education, Western culture and science are sinful.