Shell Nigeria Closes Bonny Pipeline After Fire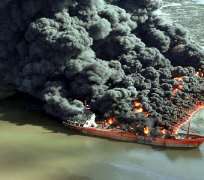 ABUJA, September 30 (THEWILL) - Shell Petroleum Development Company of Nigeria (SPDC) has shut its Bomu-Bonny oil pipeline after a fire caused by thieves.
It is Shell's belief that the inferno was caused by a burning vessel alleged to have been used to vandalise the trunk line in order to steal crude oil.
"Shell ... has shut the 28-inch Bomu-Bonny Trunkline after discovering a fire on it early this morning," read a statement signed by Tony Okonedo, the company's corporate media relations manager.
"A burning vessel, thought to be involved in the theft of crude oil from the line, was sighted near the incident site. The line conveys crude oil to Bonny Terminal."
Vice President for Health, Safety, Environment and Corporate Affairs, Sub-Saharan Africa, of Shell, Tony Attah, added that the "incident clearly demonstrates the scale of the oil theft problem which, alongside the hundreds of illegal refineries in the Delta, is having such a profound effect on the people, communities and the environment."
He lamented the spate of oil theft in the creeks of the Niger Delta, warning that "until these activities are brought to a halt, there will be no improvement in the environmental situation," and promising that Shell would mobilise to fight the fire, investigate the cause and carry out repairs.
"Last year, sabotage and crude oil theft were also the cause of 11,806 barrels spilled from SPDC facilities in 118 incidents," the statement added.
Bonny Light, the country's benchmark crude, comprises about 10 per cent of the total oil exported out of the continent's biggest producer.
The closedown will have adverse effects on the economic calculations of the country, as the 205,000 bpd of Bonny Light planned to be produced in November and the 229,000 bpd in October may not become unrealizable.